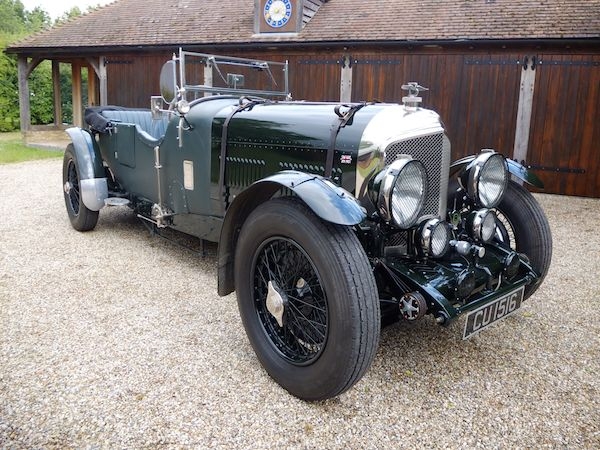 1948 Bentley Le Mans Eight
by Racing Green Engineering Ltd. Chassis No. B188CF. This is one of the famous and highly respected Racing Green cars built on the Bentley MKVI chassis and fitted with the immensely powerful B81 Rolls-Royce engine. Finished in British Racing Green with green fabric coach built tourer body and green leather interior trim and a black mohair hood and tonneau cover. This fabulous Bentley has everything that your heart desires in a vintage car. A beautifully detailed machine finished aluminum dashboard with period instruments, fold flat windscreen with aero screens, stone guards on the headlights and spot lights, outside handbrake and quick release fuel cap on the rear petrol tank. This car is also fitted with a high ratio differential making those trips down to Le Mans a bit of a breeze. Built for the person who wants all the vintage appeal without the usual hassle. Viewing of this sensational car is highly recommended. £247,000.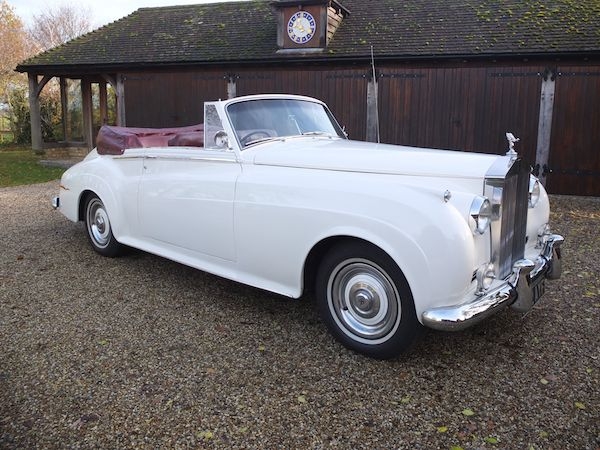 1960 Rolls-Royce Silver Cloud II drop head coupe
Chassis Number SVB143. This is an original HJ Mulliner car not a later conversion. The coachwork is finished in white with a recently fitted black hood. The interior trim still retains its beautiful original deep burgundy hide upholstery. The coachwork is in very good order with both doors and boot lid closing beautifully with minimal effort required. On the road she is a complete joy to drive and behaves herself with impeccable road manners. The Silver Cloud is my personal favourite because it offers ultra chic classic styling with all the comforts of modern motoring such as power steering, automatic transmission, servo brakes and electric hood and windows. This is just the motorcar for long continental touring holidays and comes with history file and tool kit. £267,000.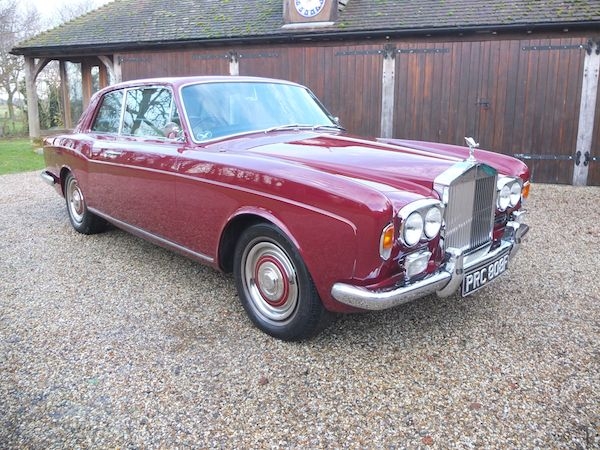 1967 Rolls-Royce Silver Shadow
2 door Saloon by Mulliner Park Ward. Finished in Rolls-Royce regal red with parchment leather interior trim. This is without doubt one of the very best and most original examples you will find. It has covered a mere 73,000 miles and has had only four owners from new, one of which kept her for thirty eight years. She has been maintained regardless of cost by a highly respected Rolls-Royce specialist for the last thirty years and is supplied with its factory build sheets, owners handbook, large tool kit, small tool kit and an outstanding history file that gives the motorcar an enviable provenance. These lovely early examples give the owner a truly Rolls-Royce magic carpet driving experience. This is a motorcar not to be missed and sensibly priced at £39,750.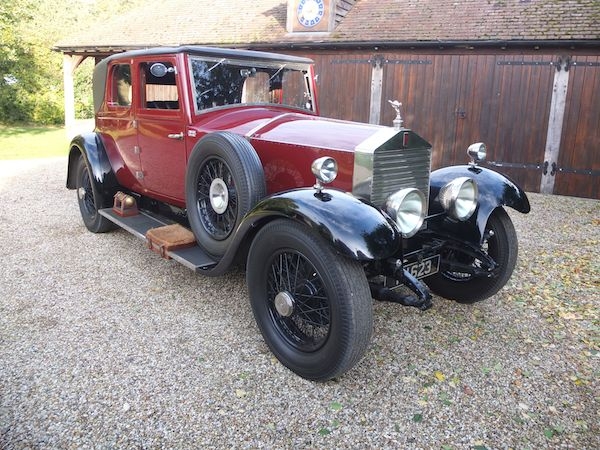 1926 Rolls-Royce 20 hp 2dr Coupe
Chassis No. GZK34 with 2 door coachwork by Windovers. Originally supplied as a four door saloon and altered by original coach builders to a 3/4 Coupe with Dickie seat then later altered to two door coupe with boot as in its present form. This is a charming little 20hp finished in maroon coachwork with black wings and fabric roof. The interior is finished in black leather throughout the car with many period features that add to its character. The condition is very good with a nicely detailed engine bay and a very clean chassis. It is plain to see that a lot of work has gone into this car as it presents very well. On the road it is a pleasure to drive plus it has the benefit of an overdrive system that makes for better cruising speed with less engine wear. £39,750.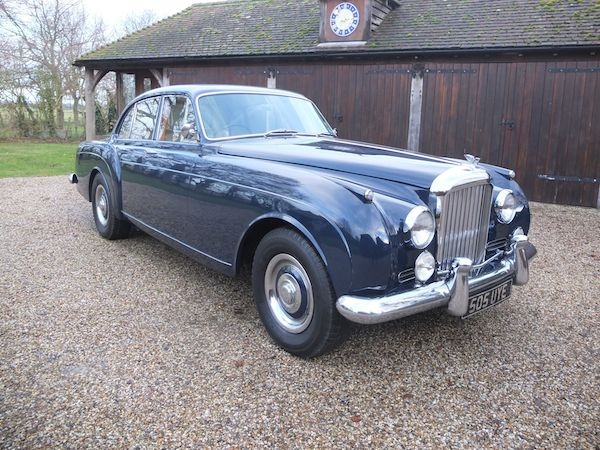 1960 Bentley S2 Continental Flying Spur
by H J Mulliner. Chassis Number BC138AR. Finished in dark blue coachwork with parchment leather interior trim. This lovely continental has recently benefitted from a complete bare metal re-paint to a high standard. The interior trim is original to the car and in excellent condition throughout. All door cappings and dashboard removed and refinished to a very high standard. The headlining is West of England cloth and in perfect condition and the carpets have been recently replaced. Mechanically the car is in very good order with a comprehensive service history. Just the car for long continental rallies and touring holidays. This is a most pleasing and rare car at a very realistic price of £117,500.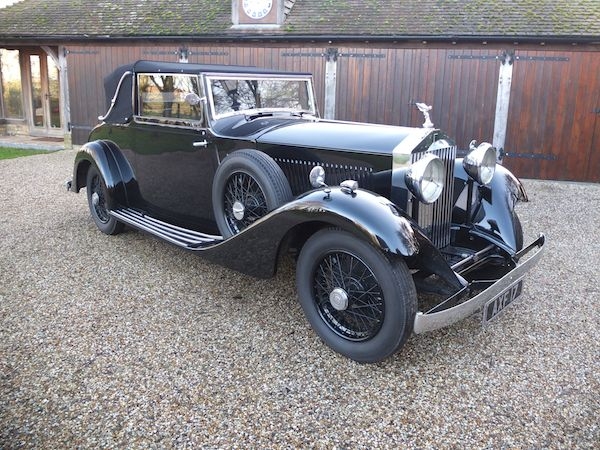 1934 Rolls-Royce 20/25 Drophead Coupe
by Hooper. Chassis Number GHA32, This delightful and most elegant three position drop head coupe is finished in black coachwork with blue leather interior trim and a black mohair hood. The car has benefitted from extensive restoration that included a total repaint, re-trim, new hood plus major mechanical overhaul and now presents very nicely. She is a pleasure to drive with a smooth running and very quiet engine and is fitted with an overdrive system for a more relaxed driving experience. She is on the button and ready to go. £79,750.
1936 Rolls-Royce 25/30 Sports Saloon
Chassis No. GTL46. Coachwork by Arthur Mulliner. Finished in black with dark burgundy side panels and dark blue leather interior trim. This lovely and original 25/30 has benefitted from a total engine re-build by RR specialists Ristes Motor Company Ltd that was completed in 2016 with invoices on record in excess of £50,000 and has had little use since. As you would expect this car now drives as it should and was driven one hundred and twenty miles with no issues on the hottest day of this summer. The coachwork and interior are in time warp condition with all doors closing with a railway carriage clunk. Beautifully appointed inside with many stylish features one of which is the original special order chrome plated dash- board. Previously owned by Lord Napier and owned by the current family since 1969. It is becomingly increasingly hard to find unspoiled motorcars like this. Supplied with large tools and a comprehensive history file that dates back to 1967. On the button and ready to drive anywhere. £49,750.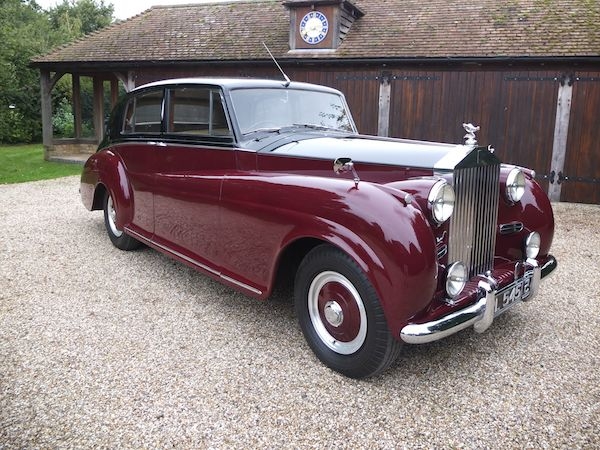 1953 Rolls-Royce Silver Wraith
Short wheel base with coachwork by James Young. Chassis Number WVH54. This delightful motorcar is finished in black with royal crimson side panels. The interior trim is finished in tan leather to the front and tan West of England cloth to the rear. All the interior is original and in exceptional condition. The coachwork has had a total repaint and is in excellent order. Special interior features include electric division, picnic tables, cocktail cabinet, vanity mirrors and foot rests. The current owner has spent a considerable sum of money over the last fourteen years of his ownership to maintain it to a high standard. The James Young coachwork is one of only eleven cars built and this particular car is featured in Lawrence Dalton's book The Classic Elegance page 47. This is a very usable family car and capable of long touring holidays, rallies etc and plenty of room for luggage. The car comes with an extensive history file and is sensibly priced at SOLD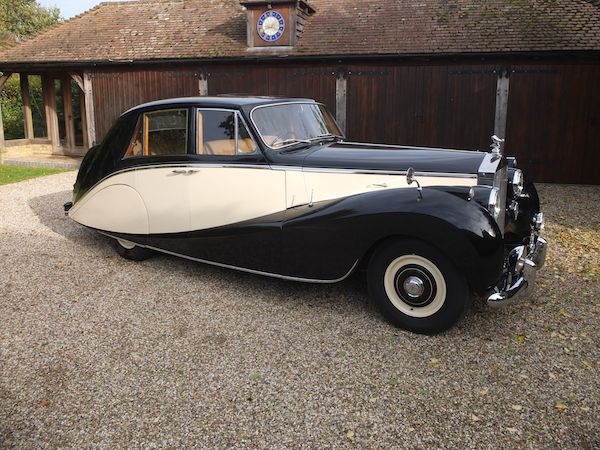 1955 Rolls-Royce Silver Dawn
Automatic with Hooper Empress line coachwork. Chassis No STH101. This Silver Dawn is one of only twelve to be fitted with the mopst desirable owner driver Empress line coachwork and is finished in the most striking colour scheme of black and ivory. The interior trim is finished in light tan leather. The entire car is in lovely condition and is fitted with power steering and an electric sunroof plus electric front windows. On the road she behaves very well and is a pleasure to drive. The present owner has participated in many long distance touring holidays without any problems. The car is supplied with both large and small tool kits plus its original Hooper instruction book that bears the cars chassis number. A rare and stylish motorcar and one for the serious collector. SOLD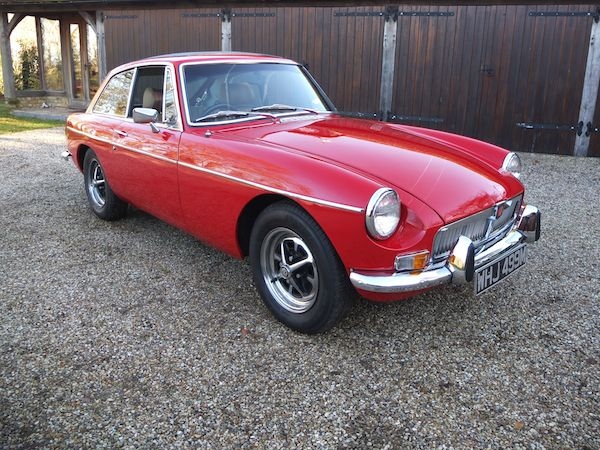 1973 MGB GT
Automatic. Chassis Number GHD5326510G. In 2006 this lovely MG was the subject of a total ground up restoration by M G Mecca of Norwich. At the time of restoration the mileage was 75,000 today it is 77,100. It has had summer use only to classic car shows and has been lady owned since restoration and maintained regardless of cost. The bodywork is finished in red with light tan half leather interior trim. Upgrades include sunshine roof, walnut dash, Moto Lita steering wheel and old style radio and CD player. During its mechanical re-build a new unleaded head was fitted. This is a beautifully presented MG that has just passed its Mot and is on the button and ready to go. Complete with good history file with photos of its restoration. Not one to be missed and realistically price at £9,750.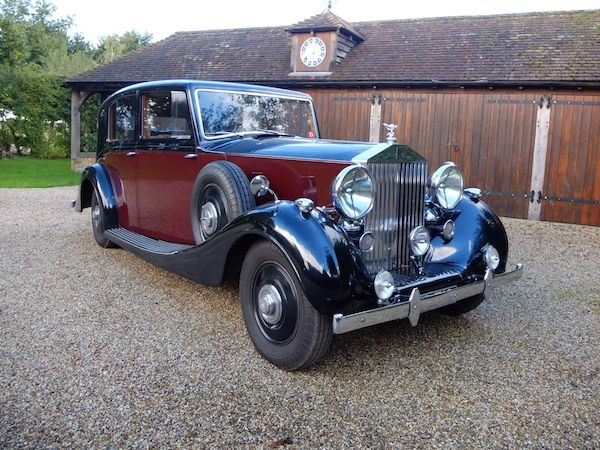 1939 Rolls-Royce Wraith
Chassis Number WHC54. Four light sports limousine with electric division with coachwork by Freestone & Webb. Finished in black and burgundy paintwork with a tan leather trim. Most of the interior is original and in good order. This motorcar was ordered with many special features that include picnic tables, occasional seats, vanity mirrors, cigar lighter, clock, foot rests and radio to name a few. On the road this motorcar performs very well and is a pleasure to drive. She has an interesting history and was the star of one of the episodes of Dad's Army (The Captain's Car) in which Lady Maltby donates her Rolls-Royce to the war effort and Captain Mainwaring decides that it would make an ideal staff car. A DVD of this is included in the history file along with the old green log book, copy of chassis cards and invoices for maintenance that go back many years plus Bernard King's book on The Wraith. All in all a delightful motorcar. SOLD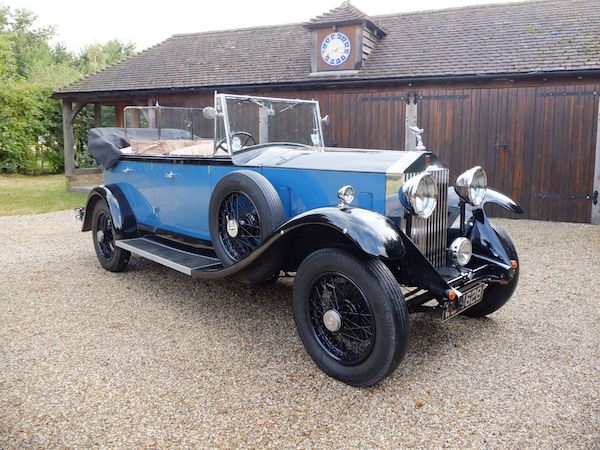 1932 Rolls-Royce 20/25 Tourer
Chassis Number GZU1. Finished in blue and black coachwork with parchment leather interior trim and a black mohair hood and sidescreens. The coachwork is in the style of Windovers four door open tourer and is built to a very high standard using traditional construction of an Ash frame clad with aluminium panels. It features many rare and interesting details such as an auster screen that offers the rear seat passengers extra protection from the elements. The rear compartment has pleasing mahogany cabinet work that contains a cocktail bar plus many drawers and compartments for all ones travelling needs. This is a very stylish pre-war Rolls-Royce tourer that offers plenty of room for passengers plus luggage in the rear mounted travelling trunk. The condition can only be described as excellent and the driving experience is a delight. Viewing this splendid motorcar is highly recommended as she is on the button and ready to go anywhere. SOLD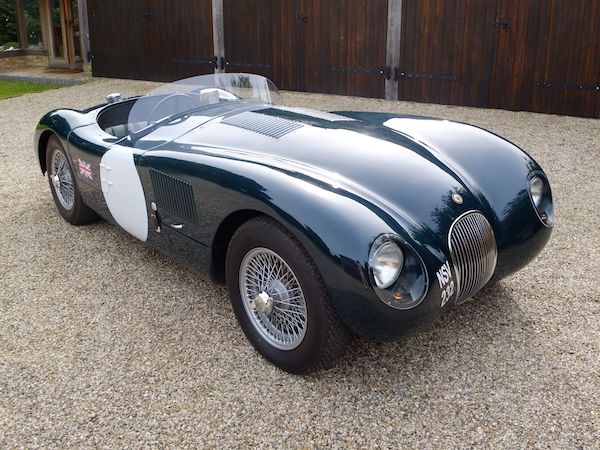 1988 Jaguar C-Type
All aluminium bodywork. This C-type is built on the Suffolk Sports Cars chassis and incorporates torsion bar suspension and live rear axel so gives the driver a true feel of an original C- type. The dash lay out is correct and features original style instruments and switch gear plus a beautiful C- type style steering wheel. Under the bonnet the detail continues with polished cam covers, correct style radiator and period electrical component. All in all this is a lovely C- type and as close to the real thing as you can get for a sensible price. SOLD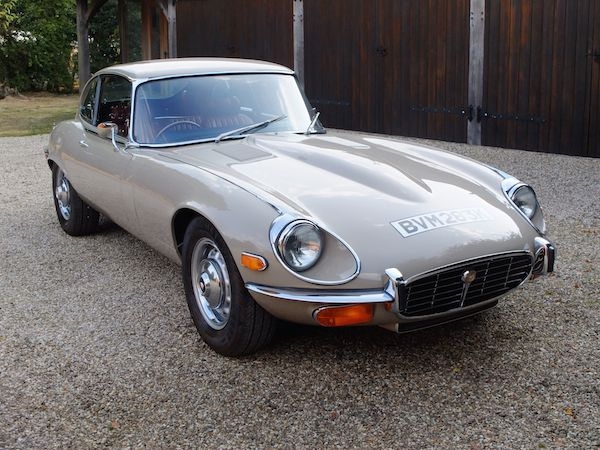 1972 Jaguar E Type Series 3 V12 2+2 Coupe Manual
Chassis Number IS72598. This lovely E Type is finished in Ascot fawn bodywork with dark red leather interior trim and carpets plus wood rimmed steering wheel. Distributed new to New York, USA in December 1971 where it spent 42 years with one owner in a dry state before being repatriated back to the UK and converted to right hand drive. The car has had a complete re-trim and re-paint however the body panels, wheels and chrome are all original which shows how little damp it has seen in its life. The car is in beautiful condition and drives as one would expect a very good E Type should. This car is supplied with history file, owners handbook, heritage certificate plus USA and UK registration papers V5c etc. SOLD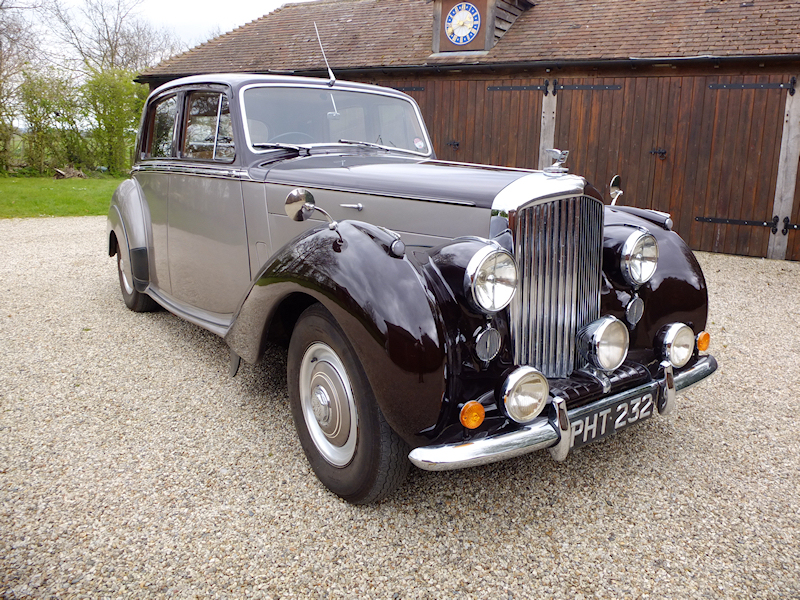 1952 Bentley MKVI 4 1/2 Litre
Finished in garnet over dusk grey with tan leather interior trim. Retaining all of its original fitments such as the HMV Vale radio, sunroof and rear wing spats. This is the most desirable specification of a standard steel MKVI Bentley available. Having the 4 1/2 litre engine with the full flow oil system plus twin pipe exhaust unit the other nice feature of a late MKVI is the twin side scuttle mounted air vents that are essential for keeping the interior of the car cool when driving on hot summer days or continental journeys. This motor car is in very good order throughout with a clean underside, good paint and chrome work. It has been with its current owner for fourteen years and is only being sold to finance a MKVI special project. This lovely car is well worth viewing. SOLD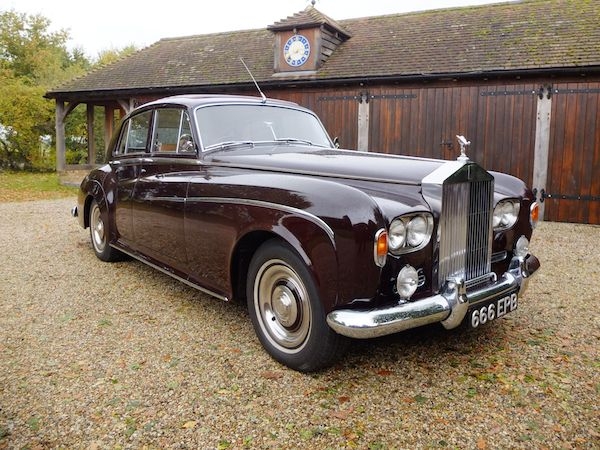 1964 Rolls-Royce Silver Cloud III
Chassis Number SGT55. This lovely motorcar is finished in Rolls-Royce garnet coachwork with light tan leather interior trim and is fitted with all the usual refinements that include power steering, automatic transmission, electric windows, picnic tables and interior vanity mirrors plus a full length sunroof. This Silver Cloud has been very well cared for and benefits from an impressive service history with many thousands of pounds spent on service and maintenance in recent years by its fastidious owner. This becomes apparent when you drive this impressive car with its positive steering, quiet engine, smooth gearbox and responsive brakes. All round this is a very nice Silver Cloud III that will give its new owner the true Rolls-Royce experience. SOLD
1934 Rolls-Royce 20/25 Six Light Limousine
Chassis Number GFE 29. Coachwork by Lancefield. Finished inn white with a brown cloth trim to the rear compartment and black leather to the drivers compartment. The coachwork is rather stylish with attractive flowing lines. The passenger rear seats have been re-trimmed in recent years.This motorcar has been in service with a local wedding hire company for the last few years. On the road she drives rather well and has a very quiet and sweet running engine, smooth clutch and responsive brakes. This is a sensibly priced 20/25 that is on the button and goes well. SOLD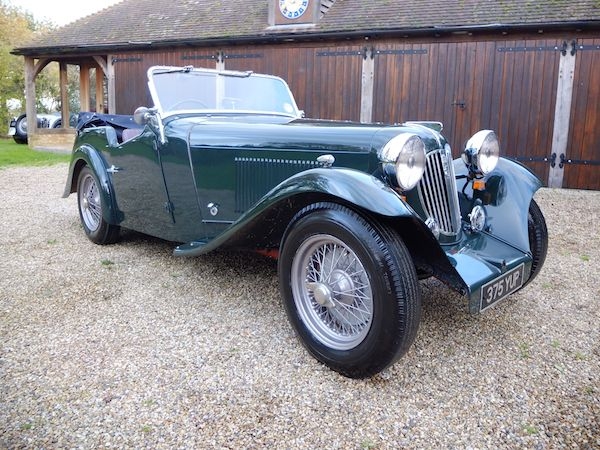 1949 HRG 1500cc 4 Seat Roadster
Chassis No. W185. Engine No. C11635. Finished in British Racing Green with brown leather trim. Built on 14th April 1949 this HRG was sold new by Brown & Dureau of Collins St, Melbourne who commissioned a one-off four seat body. One of only 251 HRGs, W185 was rallied by Australian Grand Prix winner Doug Whiteford and Reg Nutt for Brown & Dureau. Laid up since the early 60's restoration was started approximately 10 years ago in Australia. In 2012 this motorcar was imported to the UK where a most thorough major restoration was completed. Only close inspection will reveal just how much detail the current owner has gone into restoring this motorcar. This represents a very rare HRG and is the first time ever offered for sale in the UK. UK registered with V5C, on the button and ready to go. SOLD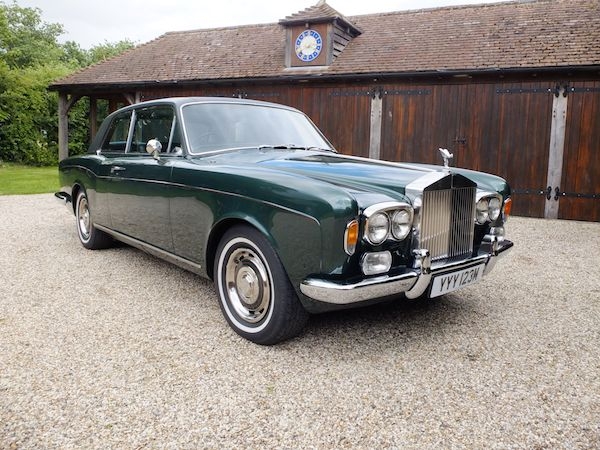 1974 Rolls-Royce Corniche
2 door Coupe coach built by Mulliner Park Ward. Chassis Number CRH17918. Finished in Scots pine paintwork with a black ever flex roof. The interior trim has been completely re trimmed in black leather with dark green piping and presents very well. The car is fitted with all the usual refinements that include electric seats, windows, power steering automatic transmission plus air conditioning. During the early 1970's the Corniche has its own unique style dashboard that makes this era of the model even more individual. Supplied with service history, owners handbook and a copy of the original Mulliner Park Ward build sheets. SOLD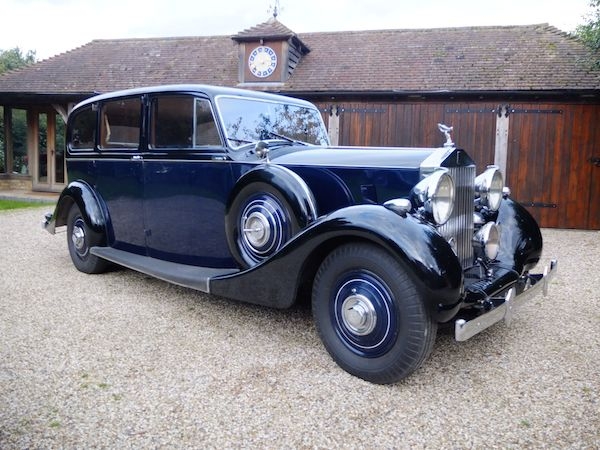 1939 Rolls-Royce Wraith
Chassis Number WRB10. With stylish six light limousine coachwork by Park Ward. Finished in black with dark blue side panels. Fitted with side mounted spare wheel and a lovely rear mounted travelling trunk complete with two fitted suitcases inside. The interior is trimmed in original fawn coloured Bedford cord to the rear compartment. Nicely appointed with foot rests, attractive interior lighting and occasional seats for extra passengers when needed. The front compartment is re-trimmed in blue leather with nicely detailed woodwork to the dashboard. The car is in good condition throughout with a very quiet engine and oil filter upgrade plus a smooth gearbox and quiet rear axel, all of which go to making this motorcar a very nice driving experience. SOLD
1939 Rolls-Royce Wraith
by Thrupp & Maberly. Chassis No. WRB67. Engine No. N5WR. Original registration No. FLN 8. Finished in black coachwork with parchment leather interior trim. This charming Rolls-Royce was bought by the current owners grandfather in 1959 and has passed through three generations of the same family in the last fifty seven years. It is rare to find a Wraith for sale and even more unusual to find one with small four light coachwork. Through her life she has received regular maintenance and in recent years a complete restoration to the interior that included new West of England cloth headlining, all upholstery re trim in leather plus new carpets and woodwork revarnished. The coachwork is all very solid with all doors closing with a nice 'clunk'. The paintwork is very original and polished through in places. The driving experience is delightful and what you would expect from such a well maintained car. She is supplied with a copy of the original RR build sheets, history file containing many Mot certificates and the original handbook. SOLD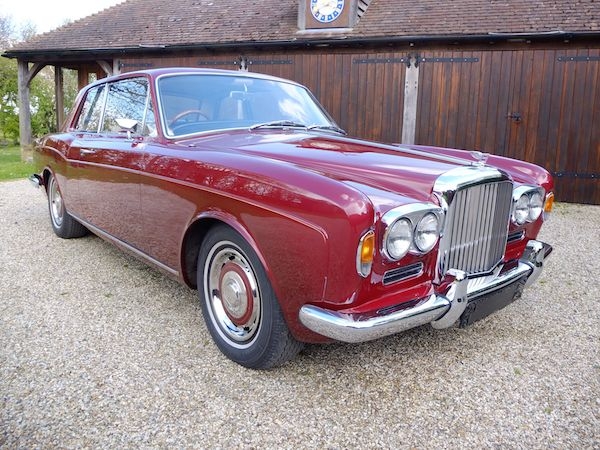 1969 Rolls-Royce Silver Shadow 2 dr Coupe
By Mulliner Park Ward. Chassis Number CRH6788. This is a very beautiful example that was converted to Bentley T specification some twenty years ago using an original bonnet, grill, headlight surrounds, front and rear bumpers and a set of wheel trims. The coachwork is finished in its original colour of Rolls-Royce regal red with parchment leather interior trim which is in excellent condition. All interior woodwork has been restored to a very high standard. The headlining, carpets and upholstery are all original and in lovely condition. All exterior chrome work is near perfect. It is not often that one comes across such a delightful motorcar as this one. Needless to say she is an absolute pleasure to drive. The mileage is 72,000 will full history and 31 Mot certificates that warrant her low mileage. Supplied with full small and large tool kit plus original owners hand book and service maintenance schedules. In the last 12 months in excess of £6,000 of service expenditure. This is one not to be missed. SOLD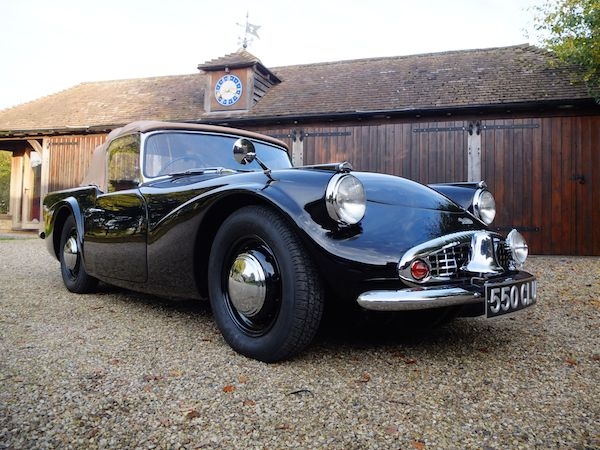 1961 Daimler Dart SP250
Ultra rare original ex Metropolitan Police car. Chassis Number 102820. Registration Number 550 CLU. One of only 26 cars supplied to the Met. This car has had a full nut and bolt restoration to concours condition and is a multi award winner. It is thought to be one of the best examples in existence - if not the best ! Full photographic details of the restoration are contained in the history file and even the die cast model made by Oxford is of this actual car and number plate. This Daimler is a must for any collector/investor and needs to be viewed to fully appreciate the finish and detail that has gone into its superior restoration. Supplied with the car is an original owners handbook plus supplement of accessories. This is indeed a rare find. SOLD
1964 Rolls-Royce Silver Cloud III
Standard steel saloon. Chassis Number SHS67. Finished in shell over Tudor grey with light tan leather interior trim. This Cloud has all the usual refinements that include power steering, automatic transmission, electric windows, picnic tables and interior vanity mirrors. The condition can only be described as very good and very original. It is always a treat to find a car that has not lost all its fine original detail. On the road the car responds well and is a pleasure to drive with a quiet engine, smooth gear box and responsive brakes. She is on the button and ready to go. Complete with full small and large tool kits and owners handbook. SOLD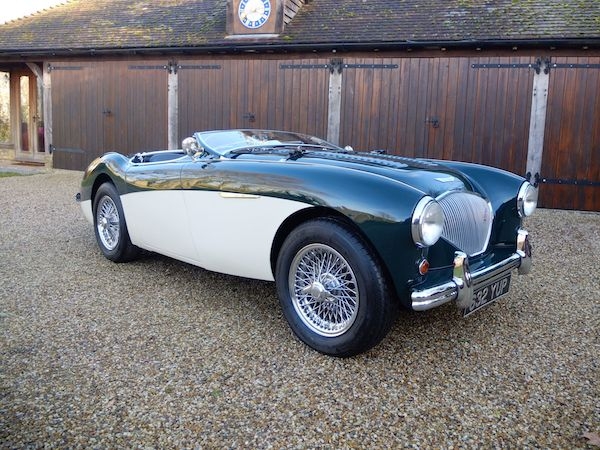 1954 Austin Healey 100/4 BN1
4 speed with overdrive. Chassis No BN1-L/158357. This car was delivered new to the USA and was re-imported to the UK by the present owner in 2012 upon which the most detailed nut and bolt, concourse standard, restoration was started that included conversion from left to RHD. The engine was re-built by Richard Parker of Dennis Welch fame and has been built with very close tolerances and performs better than a standard 100/M spec. It has an alloy head and sump and Le Mans pistons. All components were balanced. Lightened fly wheel. It has a Vernier cam sprocket and a flex oil pick up pipe. The crank has been tuftrided and has been modified for a rear crank oil seal. The engine is not run in yet. New overdrive fitted and gearbox re-conditioned. Alternator and 123 electronic ignition. Re-cored radiator and Kenlow fan have been retro fitted to assist cooling. Brand new high power starter motor fitted. Disc brakes on the front and brand new 3000 steering box fitted to improve handling. 5J MWS 72 spoke wire wheels. All other mechanical work carried out by Mowbray based Healey 'guru' Gerald Stevenson who won 'best in class' and 'best in show' at the international Healey weekend July 2017. All bodywork totally dismantled and re-built from the ground up. This Healey now represents a truly magnificent example. Contained in the history file are over 200 photos of its restoration and invoices exceeding £77,000. Viewing highly recommended. SOLD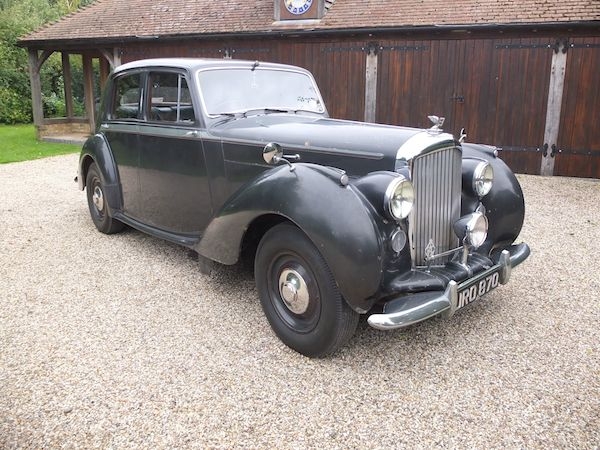 1948 Bentley MKVI Saloon
Chassis number B223CD. Finished in dark metallic grey coachwork with grey leather interior and dark blue carpets. The interior trim is completely original and has a lovely mellow patina. The coachwork is sound and solid. Mechanically excellent with a very quiet engine, nice feel to the clutch and a silky smooth gearbox with no noise from the rear axel. On the road it is a pleasure to drive and gives you a confident feel that you could go anywhere in her. I have known this car for over forty years and it remained in one family ownership from new until 2015 and only one owner since. Recently fitted with a new petrol tank, fuel pumps, water pump and full heavy grade stainless steel exhaust system. Recently serviced by Rolls-Royce specialist so on the button and ready to go. It is increasingly difficult to find genuine cars like this anymore. SOLD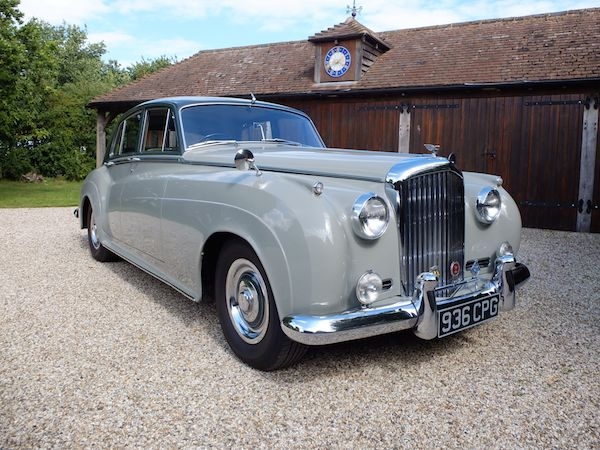 1957 Bentley S1
Power steering model. Chassis B282EG. The coachwork on this delightful motorcar is finished in smoke green over sage green paintwork. The interior leather is also finished in sage green with smoke green piping and has dark green carpets. In recent years this S1 has been the subject of a major restoration that included a total body strip down and all panels and glass removed and a bare metal rebuild completed before a total re-paint by a professional restoration company. The interior has been completely re-trimmed in new leather plus all new carpets, the dash and wood door cappings have been totally restored to a very high standard plus most of the exterior chrome work has been re-plated. This is now a beautifully presented Bentley with re-build invoices in history file. Since 2014 in excess of £14,000 has been spent on mechanical service and maintenance alone. Viewing this lovely motorcar is highly recommended. It is rare to find an S1 that has had so much time and money lavished on it. SOLD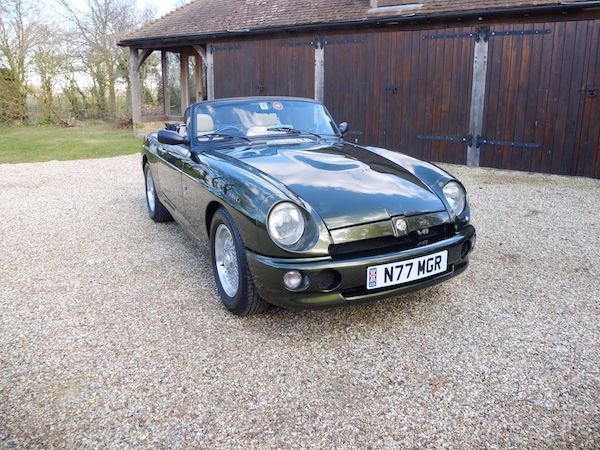 1995 RV8 MG
Chassis number SARRAWBMBMG001630. This car is in stunning condition throughout. Finished in unmarked Woodcote Green paintwork with burr elm dash and door cappings complimented by parchment leather interior trim. With wind deflector, full tonneau cover and black mohair hood. There is no rust to be found anywhere and the windscreen surround is also perfect. Mechanically this car is a delight, the 3.9 litre Rover V8 engine running smoothly and very quick on take up. The gear box is the later and much preferred K380 model with a stainless steel exhaust and recently fitted with an EZ power steering system. Recent Mot and service. Less than 2000 made so rare and desirable with a mere 45,000 miles from new. SOLD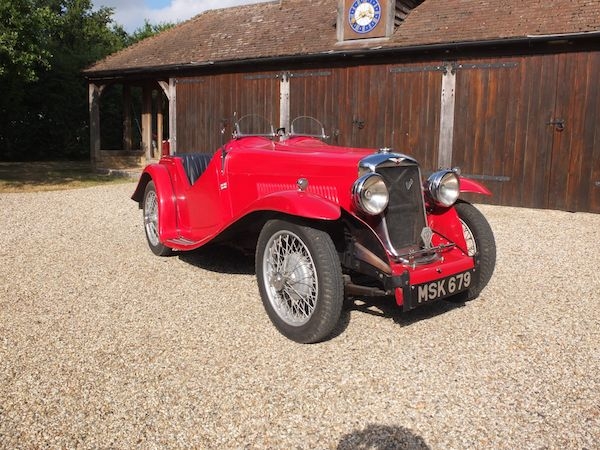 1934 Hillman Aero Minx Tourer
Finished in red coachwork with black interior. This car is currently fitted with Le Mans Aero screens but the original full fold flat chrome finished windscreen is supplied with the car as is the hood frame and canvas hood. The car is in good sound and solid condition throughout and has had mechanical and electrical word carried out recently plus a service. On the road she is surprisingly nippy and fun to drive. Now believed to be one of only about twenty left in existence. SOLD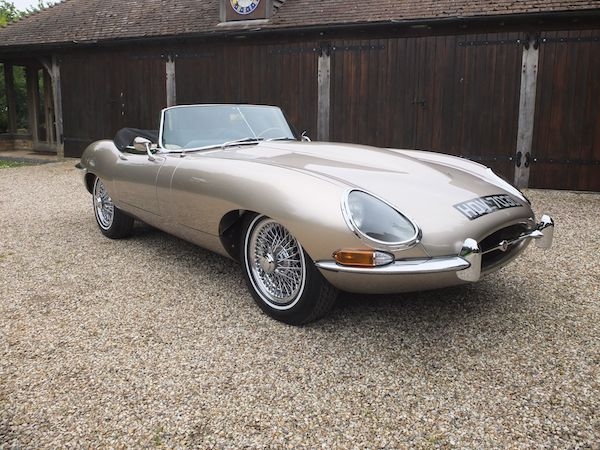 1966 Jaguar E Type Roadster 4.2
Left Hand Drive. Chassis number 1E13564. Finished in opalescent gold with parchment leather interior trim and black mohair hood. This magnificent E Type has been the subject of a total dismantle and re-build from the ground up and has achieved a score of 99.620 in a past Concours d'elegance. The history file contains photos of the restoration plus invoices. Imported from Ontario, Canada in 2015 and maintained regardless of cost. I have sold many E Types over the years and I have to say this is without any doubt one of the nicest that I have had the pleasure to sell. She is a dream to drive and has a wonderful feel on the road. The panel fit is excellent. I don't need to say any more other than just come and see for yourself ! SOLD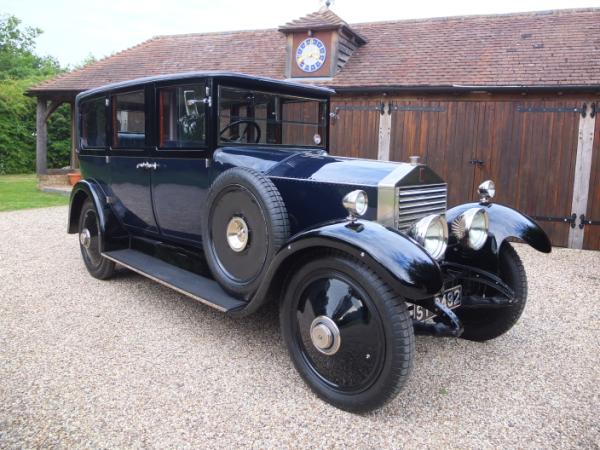 1925 Rolls-Royce 20HP
Chassis Number GDK70. With six light limousine coach work by Croall. This lovely motor car comes direct from the private collection of the president of the South Eastern section of the Rolls-Royce Enthusiasts Club. It has been the subject of a complete restoration from the ground up that includes total chassis and suspension plus steering re-build, body restoration and re-paint, new leather, carpets, headlining etc, engine re-build, re-wire etc plus all bright work re-plated. It would be difficult to find another car that has received so much care and attention and it now represents a thoroughly sorted Rolls-Royce 20 hp. The car is supplied with an interesting history file that includes copy of original build sheet and old buff log book. I would recommend viewing this motor car to fully appreciate the work that has gone into it. Complete with historic tax and Mot to May 2015. SOLD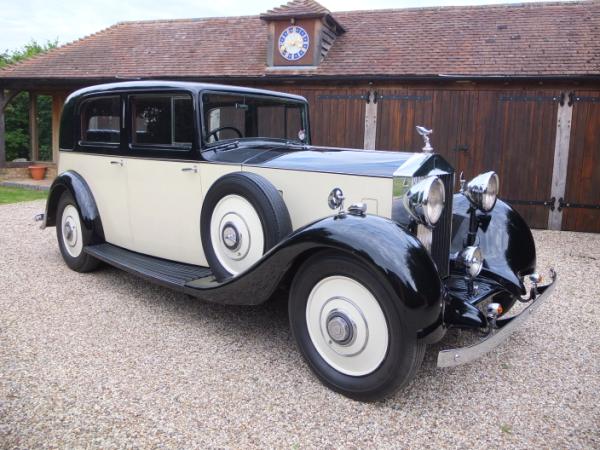 1935 Rolls-Royce 20/25 Park Ward Saloon
Chassis Number GLG60. This very attractive four light owner driver saloon is a rare opportunity to acquire a very original example that has covered only 84,000 miles from new and has been the subject of a bare metal re-paint. It has been regularly and professionally maintained by its Rolls-Royce factory trained engineer owner who has owned this motor car for the last 43 years. The interior trim is almost completely original and has a lovely mellow, correct feel to it. All doors close with a railway carriage clunk. It has been fitted with an aluminium head. The driving experience is what you would expect from such a lovely original example. The car is supplied with Mots dating back to the 1960's, copy of build sheet and photos of re-paint. Complete with historic tax and Mot to 2015. SOLD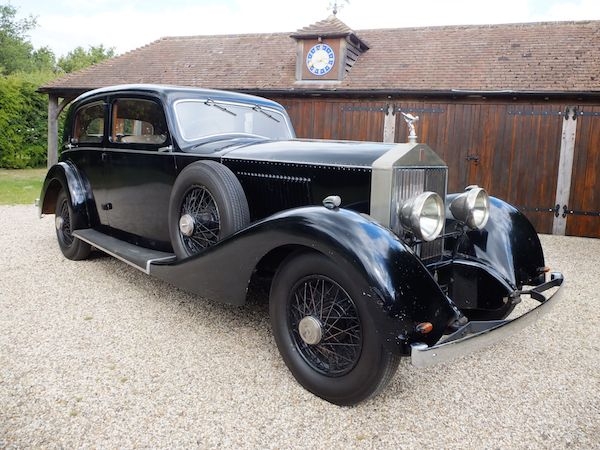 1926 Rolls-Royce Phantom 1
Fitted with replacement four door sports saloon coachwork by Martin and King in the late 1930's. This lovely motor car is bristling with high quality fitments that include Art Deco door handles, ash trays and a very nicely detailed dashboard. Mechanically in very good order with a very quiet engine. She drives very nicely and the chassis and underside are both in very good condition. Viewing of this motorcar is highly recommended. SOLD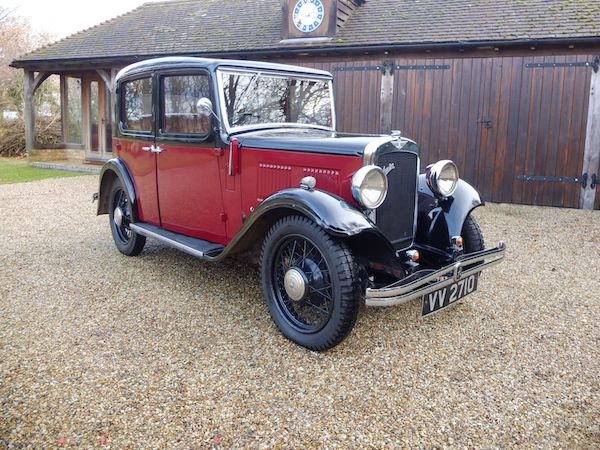 1934 Austin 10
4 Door Saloon. Finished in black over maroon paintwork with re trimmed red interior and new head lining. Re-painted some years ago and still looking good. This little car always starts very easily and has a sweet running engine on tick over. Recent new tyres on the front and some re-chroming. Generally a pleasant little motorcar that will give its new owner a lot of pleasure. I have just returned from a most pleasing meander through the country lanes of Kent where the old girl behaved herself very well. This car comes with original buff logbook and a small history file. SOLD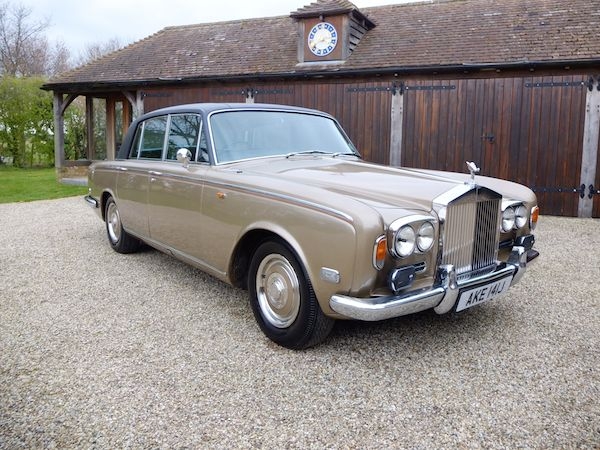 1971 Rolls-Royce Silver Shadow
Finished in gold coachwork with a black ever flex roof and black leather trim. This car is equipped with all the usual refinements that include automatic transmission, power steering, electric windows and seats. In sound solid condition throughout and offers one a very pleasant driving experience. The current owner has had this car since 2002 and it has been maintained by a local Rolls-Royce specialist. Supplied with history file containing a copy of the original factory build sheets plus service invoices. Mot to February 2018. SOLD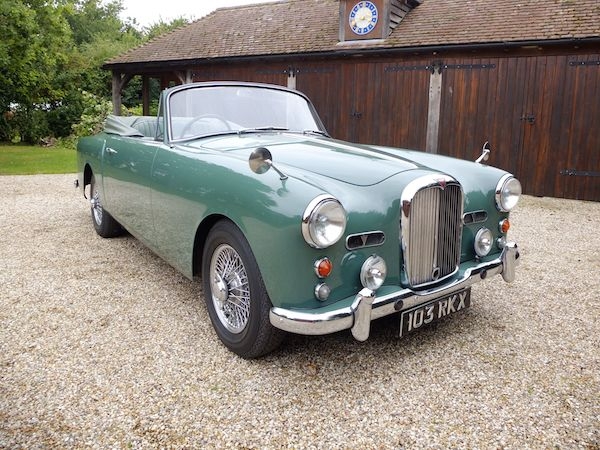 1960 Alvis TD21 3 Litre Drop head Coupe
With 5 speed manual gear box. This exceptional motor car has been the subject of a major restoration with invoices on file in excess of £55,000. The coachwork is finished in its original colour of Piasio, grey/green. The leather upholstery and carpets are also finished in their original colour. The restoration with many mechanical upgrades includes a total body re-build and re-paint, refurbish of original leather plus all woodwork finished to a very high standard with new carpets and hood. The engine and (unleaded) cylinder head have also been completely restored. The 3 Litre Alvis engine is notorious for overheating in climates warmer than the British, the cooling system on this car underwent major alterations and improvements, resulting in a never overheating engine even under the most testing circumstances. The car is equipped with a smooth and fully synchronised 5 speed gearbox, allowing for comfortable cruising at 80 MPH and a top speed of well over 100 MPH. This is a true 'gentleman's express'. Complete with many period magazine articles, original order sheet plus photos of restoration. SOLD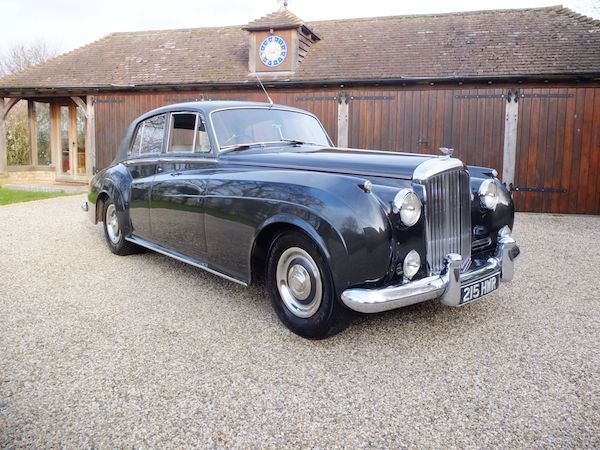 1957 Bentley S1 Saloon
Chassis Number B431-EK With power steering. Finished in shell grey over Tudor grey with grey leather interior trim. The mileage reads 86,000. This car has a good history file but not complete so I can't warrant this to be correct. However judging from the beautiful original condition of this delightful motorcar I would consider it could be correct. The interior is 100% original starting from the top the head lining is in excellent order with no stains, sagging or tears. The leather is one of the best that I have ever seen, again no rips, tears or any stitching coming undone and is still soft and supple without being re-coloured. The woodwork is in nice condition and again completely original as are the carpets which show very little signs of wear. Externally the top half of the car is still in its 1957 paint but the lower half was painted approximately twenty five years ago and is now showing signs of age. The bodywork and chrome are all in good order. Mechanically she is a delight with a smooth running and very quiet engine and a pleasure to drive. Complete with both large and small tools plus a copy of the original log book SOLD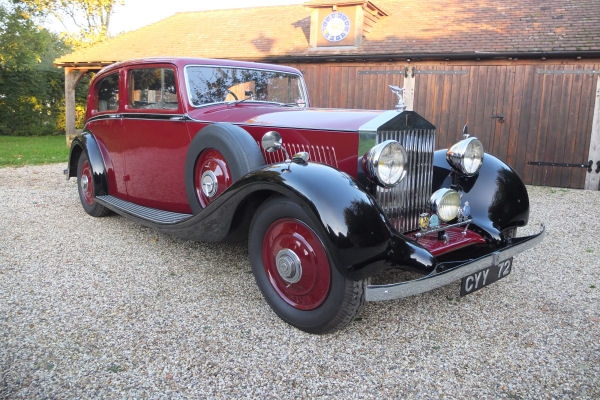 1936 Rolls-Royce 25/30 Sports Saloon
by Park Ward. Chassis Number GLT28. This desirable small coachwork Rolls-Royce is finished in black and burgundy with grey leather interior trim and grey headlining and carpets. This motor car has received extensive restoration in the last couple of years that includes re-building of the running boards, some Ash framework, a body restoration and complete re-upholster in new leather plus new carpets. All wiring has been checked and replaced where necessary. New exhaust and tyres fitted. Cylinder head removed and checked. This now represents a nice driving car with all the hard work done. Historic tax and full 12 months Mot. SOLD
1962 Bentley S2 Continental Flying Spur
By James Young. Chassis Number BC96AR. Finished in white coachwork with St James red leather interior trim. The bodywork is very straight with all doors closing well. The upholstery is in lovely original condition and still very soft and supple. The chassis and underside of the car is in very sound and solid. Apart from its white paintwork this is a very original Bentley Continental that requires cosmetic attention hence very sensibly priced. SOLD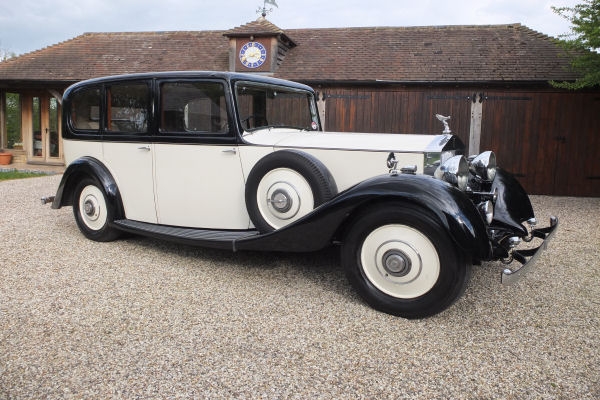 1938 Rolls-Royce 25/30 Six Light Limousine
With coachwork by Hooper and Company. Chassis Number GRM60. Finished in black and ivory paintwork with black drivers compartment and buff coloured cloth upholstery to the rear compartment. With glass division and two occasional seats. This Rolls-Royce has been with its present owner for twenty-seven years and has recently benefited from a new clutch and new aluminium cylinder head making it a very nice driving car. The coachwork is all sound and solid with all four doors closing with a railway carriage clunk. The car is supplied with historic tax and a new Mot until March 2015. SOLD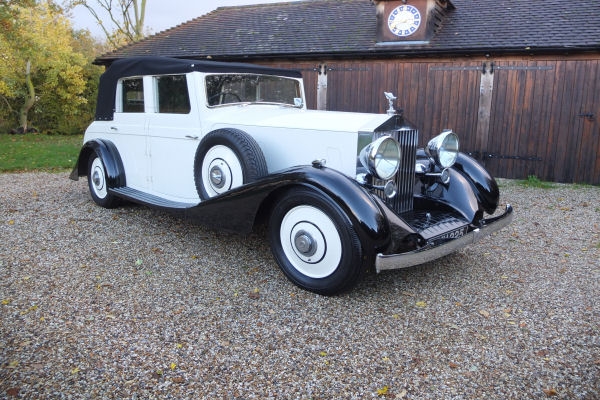 1938 Rolls-Royce 25/30
Chassis number GAR15. With all weather four door cabriolet coachwork. The original limousine body was removed from this Rolls-Royce and the bare chassis stripped and re-painted. A completely new Ash frame was constructed with all new aluminum body panels and wings with new hood frame and hood. The engine work includes crankshaft reground, new white metal bearings, new pistons, cam followers, front gear train bearings, water pump, dynamo, starter overhauled and an aluminum head fitted. Also fitted with a new stainless steel exhaust system and a new clutch. With new interior leather trim and carpets this unique motor car is now complete with an Mot to November 2014 plus historic tax. Viewing highly recommended. SOLD