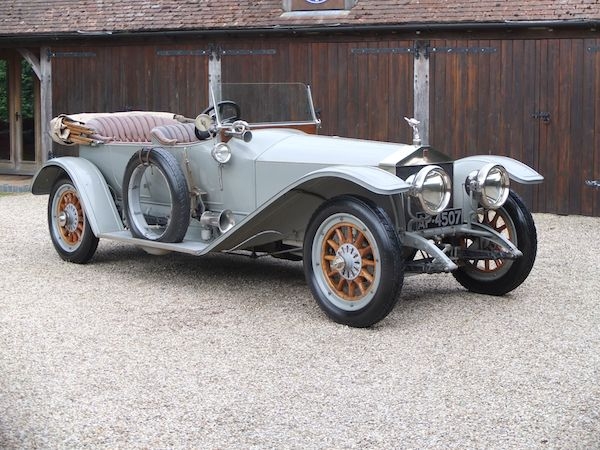 1913 Rolls-Royce 40/50 HP Silver Ghost
London to Edinburgh Tourer. On the 7th July 1913 Chassis Number 2500E was dispatched to coach builders White-Coleman of Camden Town, London and was fitted with tourer coachwork for its first owner A. Carlish of Hove, Sussex. In 1971 the car was found in a somewhat tired state. What remained of the coachwork was removed and the driving chassis was delivered to Rivers-Fletcher Raahauge for restoration in 1974. After completion it was handed over the the master himself Mr Graham Neale who built one of the most exquisite tourer body you could wish to see on a pre first world war London to Edinburgh chassis that has the more compact fire wall and tapered bonnet with narrower light weight wind cheating coachwork. The attention to detail is a delight to see. The first owner requested Warland duel rim wooden wheels and I am glad to say that the car is still to that specification today. If you love Edwardian Rolls-Royce motor cars I would strongly advise you come to see this car to fully appreciate how lovely it is. SOLD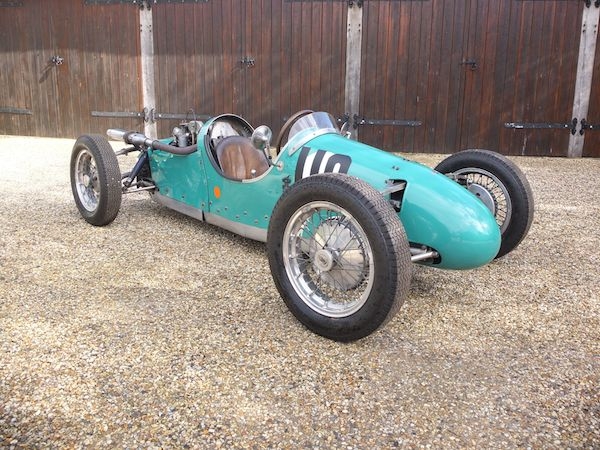 1950 COOPER MKIV - JAP 500cc
THE STIRLING MOSS COOPER MKIV- JAP 500cc. Chassis T12. Sir Stirling Moss known as the worlds most famous racing driver. A rare opportunity to acquire a very important piece of British motor racing history. This is the racing car that was a major part of Sir Stirling Moss early racing career and with this car he achieved first place at Silverstone, Monaco, Brands Hatch and Castle Combe and unlike many of the other cars he raced this one was his own personal property. There is an encyclopaedic history file with this famous racing car that contains photos and information throughout its life. The fortunate next owner of this car will be welcome at all historic motor racing events worldwide. If you have an interest in this car please come and view as the history file is far too extensive to put online. £385,000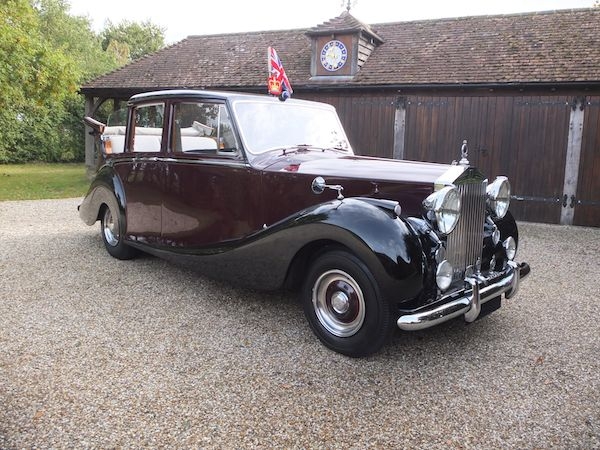 1954 Rolls-Royce Silver Wraith Hooper
State Landaulette. Chassis Number BLW92 On completion this motorcar was shipped to Singapore for the use of the governor and visiting royalty. HRH Prince Phillip, Duke of Edinburgh toured in the car in 1959. Later the car returned to Europe and came into the custody of the late Mr Andrew Pastouna, broadcaster and author of several books on the royal motorcars. During his ownership the car was fully restored to an exceptionally high standard and was loaned for official ceremonies and was used by Princess Alexandra and the late Queen Mother. To this day the car has formed part of a private collection and has been maintained to a high standard. This is a rare opportunity to acquire a beautiful Rolls-Royce motorcar with a fascinating history. £150,000.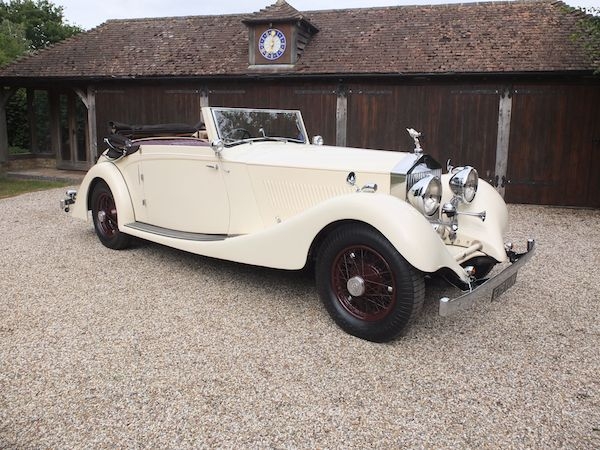 1931 Rolls-Royce Phantom II
Three position drophead coupe. Coachwork by Ranalah of London. Chassis Number 63GY. This stylish motorcar appears on page 300 of Those Elegant Rolls-Royce by Lawrence Dalton. The coachwork is finished in ivory with a beautiful burgundy leather interior trim and a recently fitted brown mohair hood. The wire wheels have also been finished in burgundy which gives the car immense road presence. Originally bodied as a Weyman limousine and then in 1938 the car was delivered to the coach builders Ranalah of Morden Rd Lodnon SW19 and a one off design three position drophead coupe body was built for the new owner Basil Garnham Esq of Winchmore Hill London N12 and was his pride and joy until his death in 1950. An interesting history file accompanies the car and creates a lovely record of the cars life. In 2018 - 2019 the car had a mechanical overhaul that included a new cylinder head, two new blocks and a set of new pistons. All work carried out by Harvey Wash Ltd. The work has just been completed and the head tightened down after a five hundred mile test run and delivered straight to me. I have to say I find this delightful motorcar most pleasing and very stylish. Sensibly priced at £147,000.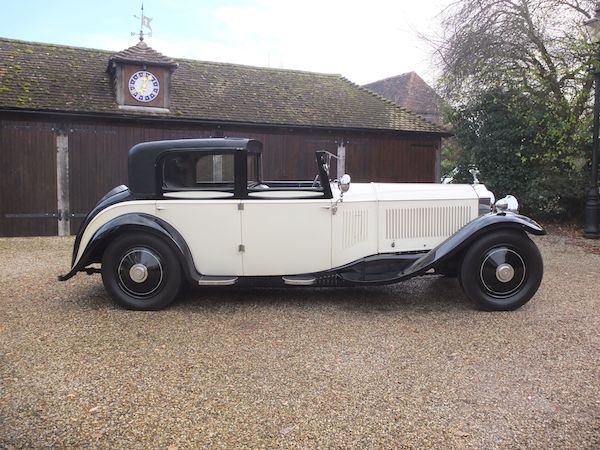 1931 Rolls-Royce Phantom II
With one off sports Sedanca de Ville coachwork by Windovers. Chassis Number 96GY. This very stylish motorcar was designed specially for continental touring and was built for Lord Portarlington, the chairman of Windovers and was displayed on the Rolls-Royce stand at the 1931 Earls Court motor show. This is without doubt one of the most beautiful Phantoms available. I have to admit I favour the Sedance de Ville coachwork because it is so versatile and allows people like me who love open motoring to enjoy the elements and one's friends who are not quiet so keen to stay warm and comfortable in the back of the car. The car is finished in black and ivory with a recently re-trimmed black leather interior, new headlining and carpets. In recent years a new radiator core and a light engine overhaul has been carried out. On the road she responds very well in all aspects which makes for a very pleasant driving experience. This lovely Phantom has remained in the same family for over forty years and I think is priced to sell at £117,000.
2014 Rolls-Royce Wraith Coupe
Finished in midnight sapphire metallic coachwork with black leather interior trim. Two owners from new present owner from 2015. Current mileage 32,000 with Sunningdale Rolls-Royce service history. Options fitted to this car are camera system with top view, driver assistance pack, piano black interior trim, chromed visible exhausts and Rolls-Royce logo stitched in headrests. Standard equipment - bluetooth system, dynamic cruise control with brake function, night vision, on board computer, parking distance sensors front and rear, PAS, reverse parking aid, Rolls-Royce assist telematics services, satellite navigation with colour screen, grey tinted upper strip on windscreen, heated door mirrors, heated rear window, heated washer jets, laminated side windows, LED rear lights, rear electric windows, Xenon headlights + headlight washers. 2 x 12V sockets, 4 zone climate control, adjustable lumbar support, rear centre armrest, 3 point front and rear seat belts, ABS+electronic brake force distribution, active front headrests, Cornering brake control, driver and passenger side airbags/airbags, drivers knee bags. £98,000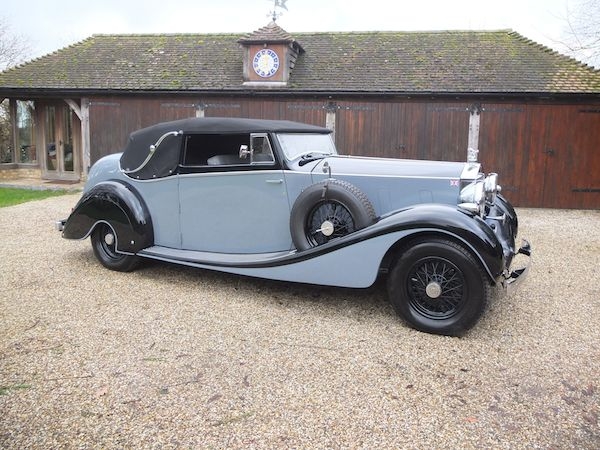 1938 Rolls-Royce Phantom III Drophead Coupe
Available soon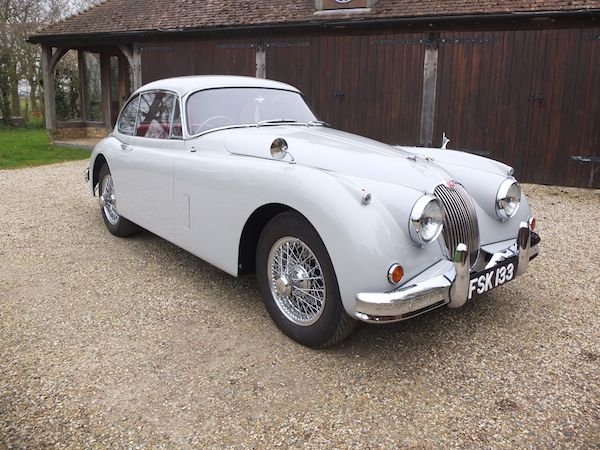 1957 Jaguar XK150 3.4 Litre Automatic
Fixed head Coupe. Chassis Number S834467BW. Delivered new to Jaguar cars, New York, USA and returned to the UK in recent years. Finished in Pearl Grey with dark red leather interior trim. Professionally coverted to right hand drive and retaining its original automatic gear box specification. This lovely XK150 has been the subject of a total nut and bolt ground up restoration that included electric a lighting upgrade so you can be seen and see where you are going at night plus electric power steering. The restoration was recently completed and the car has seen little use since. The restoration has cost in excess of £100,000. There is no point me wittering on about what has been done because everything has been done ! The Jaguar is supplied with an owners handbook, work shop manual and several books on XK Jaguars plus a box of spares and a highly detailed selection of invoices in the history file. This car is a delight to look at and any inspection is welcomed on this very sensibly priced XK150. £77,750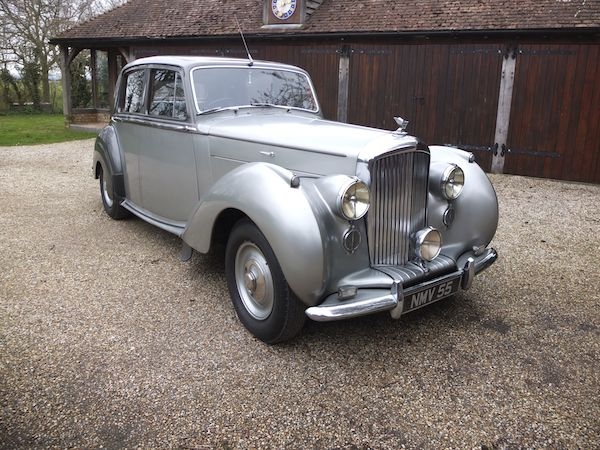 1947 Bentley MKVI Saloon
Chassis Number B313BG. The coachwork is finished in Tudor Grey over silver with grey leather interior trim. This is a good original example with the early pre war style upholstery that is in very good order. All the bodywork is in good shape and retains all of its correct detail. On the road the car responds well in all aspects and is a pleasure to drive. Summing up I would say this is a most pleasing sound and solid Bentley MKVI. £29,750
1960 Bentley S2 Saloon
Chassis Number B12BS. Finished in smoke grey coachwork with parchment leather interior. This is one of the most original examples I have had the pleasure to offer for a very long time indeed. The bodywork is virtually untouched and bears 90 per cent of its original paint. The interior is totally original and retains all of its detail and is in excellent condition, a pleasure to behold. The boot still has its original carpet that is very good. The large and small tool kits are both in place. This delightful Bentley has spent many years in California owned by an elderly gentleman who rarely used it hence it has survived incredibly well. This is a car for someone who appreciates a lovely original example. The first lady owner bought this Bentley from new in England and then shipped it out to Beverly Hills and kept it until 1985 when she sold it to Samuel Wasem who cherished it until 2002 when it returned to England. It has since had two UK owners and is now looking for someone who will continue to love her. She has just driven 175 miles to me and is sensibly priced at £29,750
1960 Bentley S2 Continental
by James Young Coming Soon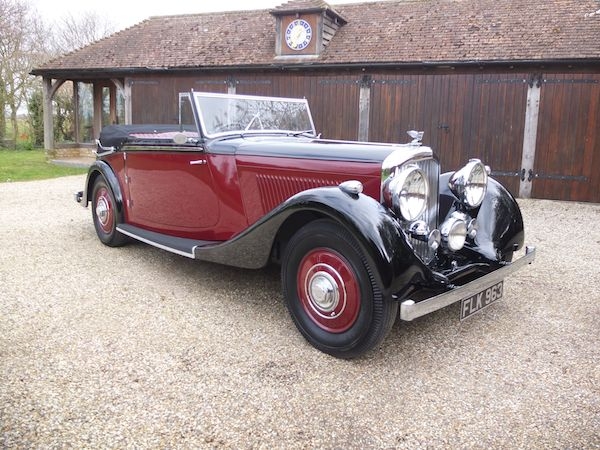 1939 Bentley 4 1/4 Litre MR Vanden Plas dhc
Chassis Number B128MR. This delightful Derby is a rare combination of an overdrive M series chassis and VDP drophead coachwork both of which are very sought after and is one of a very small number of cars of its type thus making it most desirable for all the right reasons. The present owner has owned this car for eleven years and the previous two owners for fourteen and thirty years respectively. When one acquires a motorcar of this rarity it is usually kept for a long time. In recent years it has benefited from a ground up body off restoration and won second in class at an RREC national rally concours. As one would expect it drives and performs beautifully and is in excellent condition. £350,000.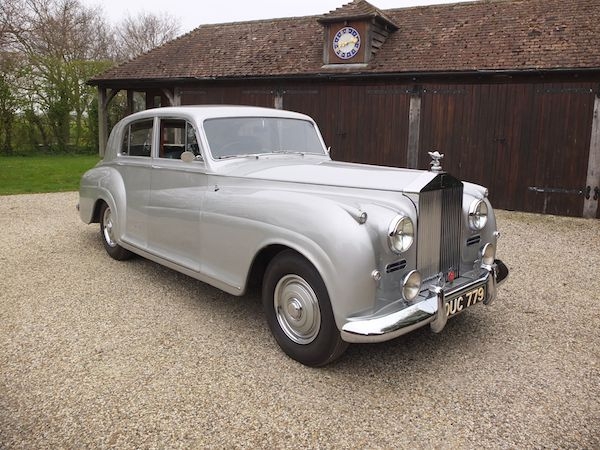 1954 Rolls-Royce Silver Dawn
with coachwork by James Young of Bromley, Kent. Chassis Number SOG100. The coachwork is finished in metallic silver with pale green leather interior trim and green carpets. This is a rather nice and rare car that is beautifully appointed inside and has rather small compact coachwork for a Rolls-Royce of this era thus making it very usable plus having the benefit of automatic transmission it is perfect for town or country driving. In fact it would be perfect as a family car for long distance touring because it has a very large boot for such a compact car. On the road it responds well in all aspects that make for a pleasing driving experience. In good order throughout and on the button and ready to go and sensibly priced at SOLD
1936 Rolls-Royce 25/30 Sports Saloon
Chassis No. GTL46. Coachwork by Arthur Mulliner. Finished in black with dark burgundy side panels and dark blue leather interior trim. This lovely and original 25/30 has benefitted from a total engine re-build by RR specialists Ristes Motor Company Ltd that was completed in 2016 with invoices on record in excess of £50,000 and has had little use since. As you would expect this car now drives as it should and was driven one hundred and twenty miles with no issues on the hottest day of this summer. The coachwork and interior are in time warp condition with all doors closing with a railway carriage clunk. Beautifully appointed inside with many stylish features one of which is the original special order chrome plated dash- board. Previously owned by Lord Napier and owned by the current family since 1969. It is becoming increasingly hard to find unspoiled motorcars like this. Supplied with large tools and a comprehensive history file that dates back to 1967. On the button and ready to drive anywhere. £49,750.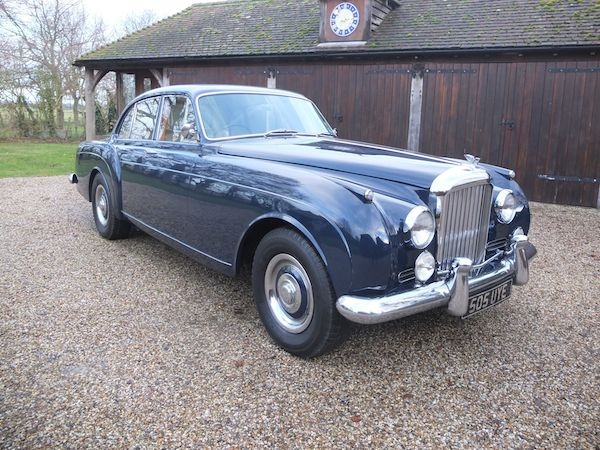 1960 Bentley S2 Continental Flying Spur
by H J Mulliner. Chassis Number BC138AR. Finished in dark blue coachwork with parchment leather interior trim. This lovely continental has recently benefitted from a complete bare metal re-paint to a high standard. The interior trim is original to the car and in excellent condition throughout. All door cappings and dashboard removed and refinished to a very high standard. The headlining is West of England cloth and in perfect condition and the carpets have been recently replaced. Mechanically the car is in very good order with a comprehensive service history. Just the car for long continental rallies and touring holidays. This is a most pleasing and rare car at a very realistic price of £117,500.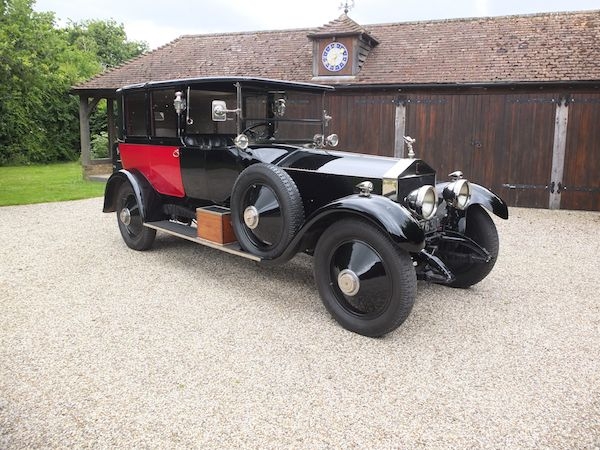 1921 Rolls-Royce 40/50 HP Silver Ghost
Open drive landaulette by Brocks Motors Ltd. Chassis Number 133LG. This lovely Ghost is finished in black coachwork with red side panels and a recently replaced black leather roof. The car has some lovely external period fittings that include Oprah lamps, carriage door handles and a Brexton trunk with three fitted suitcases. The interior is exquisite with re trimmed upholstery in fawn cord with brocade trimmings, new West of England cloth headlining and all the wood trim restored to a very high standard plus many pleasing features such as the speaker tube for instructing the driver to go faster ! On the road this Ghost performs very well in all respects making for a very pleasurable driving experience. All in all a rather lovely Ghost. £160,000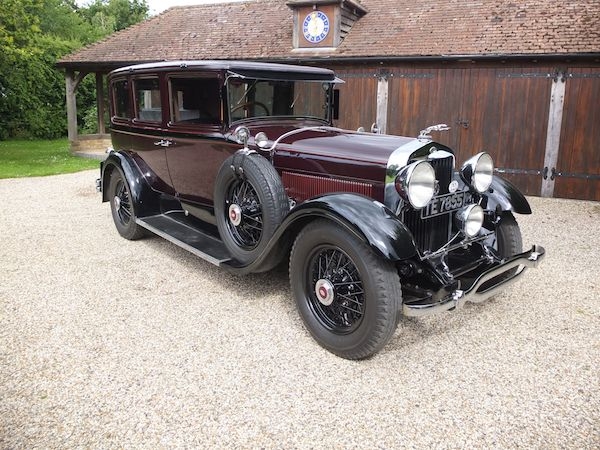 1929 Lincoln Model L Limousine
Right hand drive. Chassis number 56868. Delivered new to the UK and registered on 8th May 1929 to its first owner Mr Edward Philip Andreae of Tandridge Court, Oxted, Surrey. This delightful Lincoln is finished in black with maroon side panels and buff cloth trim to the rear compartment and black leather to the front. The entire car is brimming with correct period fittings - too many to mention and it has had a very sheltered and well cared for life. The present owner has cherished her for the last fifty years. The mileage is approximately 87,000 and is warranted by an encyclopaedic history file that dates back to 1929. On the road the car responds very well in all departments thus making for a very pleasing driving experience. This car has to be seen to be appreciated. OFFERS INVITED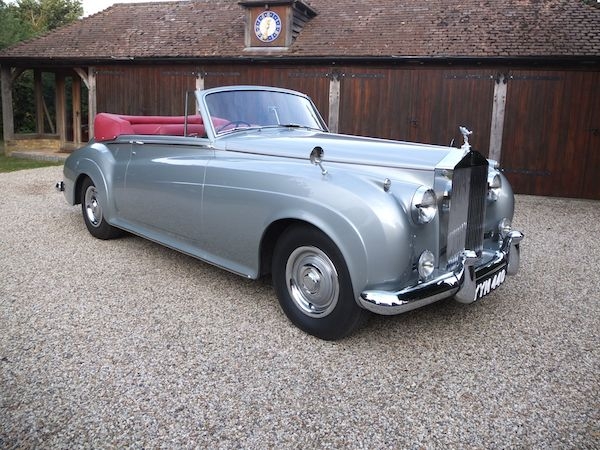 1960 Rolls-Royce Silver Cloud II
Original drop head coupe by HJ Mulliner. Chassis number STB190 is one of only thirty two right hand drive examples produced, a rare motor car indeed. Finished in its original colour of shell grey coachwork with scarlet leather interior trim. This lovely motorcar has been the subject of a major restoration that included a total dismantle to bare metal and re-paint to a high standard. A complete re-trim in leather, new carpets, total refurbishment of all interior woodwork, new hood and head lining, all chrome work re-plated plus a major mechanical overhaul. This now represents a very well sorted Silver Cloud dhc. The car is supplied with full tool kits and a comprehensive history file. If you desire a rare and very special motorcar that is capable of transporting you across Europe in comfort and style then you need look no further. I would highly recommend that you come and sample the delights of this important motorcar. SOLD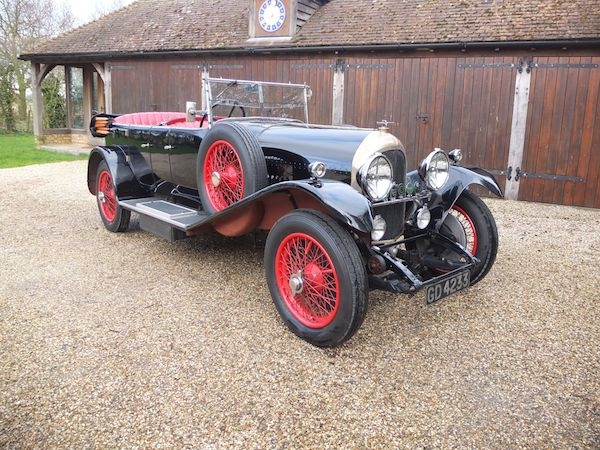 1925 Bentley 3 Litre
With original tourer coachwork by Gurney Nutting. Chassis number 1171. Finished in black coachwork with red leather interior trim. Full all weather equipment includes black mohair hood, tonneau cover and side screens plus a glass auster screen so your rear passengers can maintain their dignity when travelling at speed. This WO is a delight to behold. The original Gurney Nutting tourer coachwork is exquisitely executed and beautifully detailed and rare to find on the three litre chassis. The three engine is slightly later from a speed model which has the SS prefix to its number and is correct for the period. On the road the car performs well in all respects and makes for an enjoyable driving experience. The history file is detailed and dates back to the 1970's with some copy form record books in the 1920's. Summing up a lovely and correct three litre. £222,000.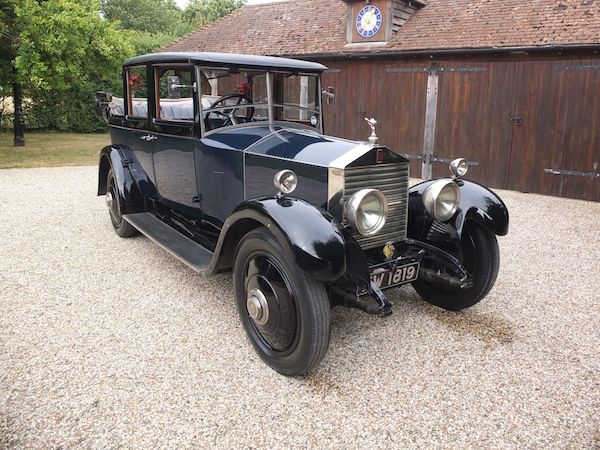 1928 Rolls-Royce 20 HP
With Landaulette coachwork by Park Ward & Co. Chassis Number GLW 14. This delightful motorcar has remained in the same family ownership for nearly forty years and was the pride and joy of the chairman of the South Eastern section of the Rolls-Royce Enthusiasts Club. The coachwork is finished with black wings and dark blue side panels with a black leather roof and blue leather interior trim. Contained in the runnings is a very impressive small tool kit and on the other side is the large tool kit. The car is in very good order throughout and has a quiet and sweet running engine which is a pleasure to drive. Before the war it was the property of Lord Salisbury personal friend of Sir Winston Churchill and in latter years was used as Pop Larkins car in The Darling Buds of May. This is a lovely 20HP with some exquisite details that would grace any serious collection. £59,750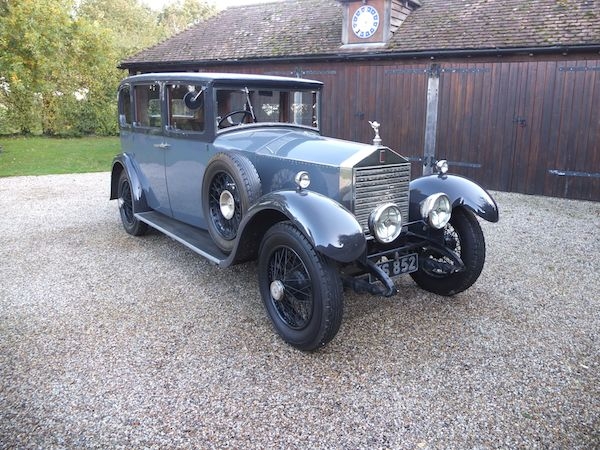 1923 Rolls-Royce 20 HP
With owner driver coachwork by Litchfield. Chassis Number 62H-2. This is a charming early 20HP that has the distinctive rounded edge grill. The coahcwork is subtly finished in two shade of grey and the interior still retains its original brown leather upholstery. In recent years there are several invoices in the history file that bare the names of notable Rolls-Royce specialists for restoration and routine maintenance. On the road the car responds very well in all aspects and goes to make for a very pleasing driving experience. All in all a rather lovely early 20HP that will reward its new owner with many more years of faithful service. £29,750.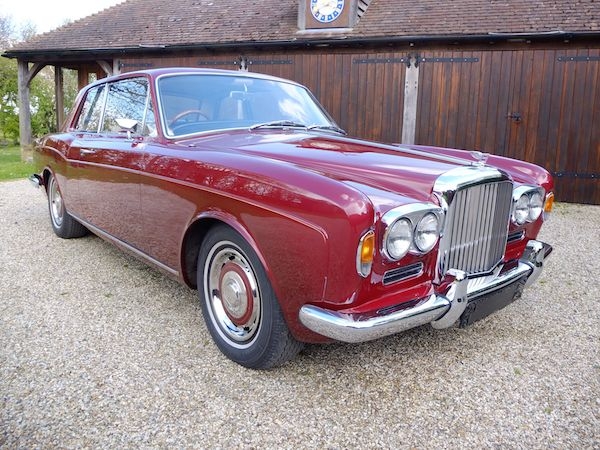 1969 Rolls-Royce Silver Shadow 2 dr Coupe
By Mulliner Park Ward. Chassis Number CRH6788. This is a very beautiful example that was converted to Bentley T specification some twenty years ago using an original bonnet, grill, headlight surrounds, front and rear bumpers and a set of wheel trims. The coachwork is finished in its original colour of Rolls-Royce regal red with parchment leather interior trim which is in excellent condition. All interior woodwork has been restored to a very high standard. The headlining, carpets and upholstery are all original and in lovely condition. All exterior chrome work is near perfect. It is not often that one comes across such a delightful motorcar as this one. Needless to say she is an absolute pleasure to drive. The mileage is 72,000 will full history and 31 Mot certificates that warrant her low mileage. Supplied with full small and large tool kit plus original owners hand book and service maintenance schedules. In the last 12 months in excess of £6,000 of service expenditure. This is one not to be missed. SOLD
1939 Rolls-Royce Wraith
by Thrupp & Maberly. Chassis No. WRB67. Engine No. N5WR. Original registration No. FLN 8. Finished in black coachwork with parchment leather interior trim. This charming Rolls-Royce was bought by the current owners grandfather in 1959 and has passed through three generations of the same family in the last fifty seven years. It is rare to find a Wraith for sale and even more unusual to find one with small four light coachwork. Through her life she has received regular maintenance and in recent years a complete restoration to the interior that included new West of England cloth headlining, all upholstery re trim in leather plus new carpets and woodwork revarnished. The coachwork is all very solid with all doors closing with a nice 'clunk'. The paintwork is very original and polished through in places. The driving experience is delightful and what you would expect from such a well maintained car. She is supplied with a copy of the original RR build sheets, history file containing many Mot certificates and the original handbook. SOLD
1934 Rolls-Royce 20/25 Six Light Limousine
Chassis Number GFE 29. Coachwork by Lancefield. Finished inn white with a brown cloth trim to the rear compartment and black leather to the drivers compartment. The coachwork is rather stylish with attractive flowing lines. The passenger rear seats have been re-trimmed in recent years.This motorcar has been in service with a local wedding hire company for the last few years. On the road she drives rather well and has a very quiet and sweet running engine, smooth clutch and responsive brakes. This is a sensibly priced 20/25 that is on the button and goes well. SOLD
1964 Rolls-Royce Silver Cloud III
Standard steel saloon. Chassis Number SHS67. Finished in shell over Tudor grey with light tan leather interior trim. This Cloud has all the usual refinements that include power steering, automatic transmission, electric windows, picnic tables and interior vanity mirrors. The condition can only be described as very good and very original. It is always a treat to find a car that has not lost all its fine original detail. On the road the car responds well and is a pleasure to drive with a quiet engine, smooth gear box and responsive brakes. She is on the button and ready to go. Complete with full small and large tool kits and owners handbook. SOLD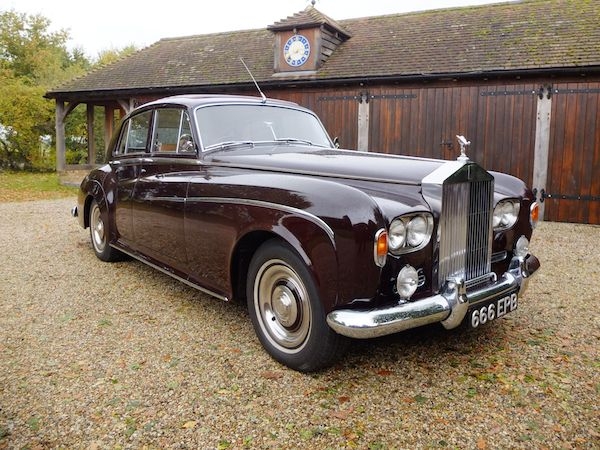 1964 Rolls-Royce Silver Cloud III
Chassis Number SGT55. This lovely motorcar is finished in Rolls-Royce garnet coachwork with light tan leather interior trim and is fitted with all the usual refinements that include power steering, automatic transmission, electric windows, picnic tables and interior vanity mirrors plus a full length sunroof. This Silver Cloud has been very well cared for and benefits from an impressive service history with many thousands of pounds spent on service and maintenance in recent years by its fastidious owner. This becomes apparent when you drive this impressive car with its positive steering, quiet engine, smooth gearbox and responsive brakes. All round this is a very nice Silver Cloud III that will give its new owner the true Rolls-Royce experience. SOLD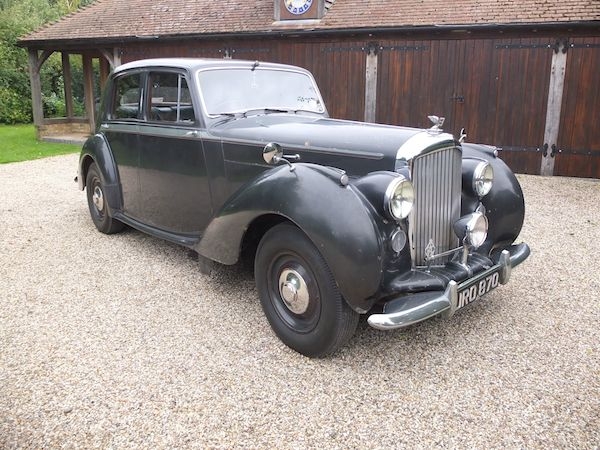 1948 Bentley MKVI Saloon
Chassis number B223CD. Finished in dark metallic grey coachwork with grey leather interior and dark blue carpets. The interior trim is completely original and has a lovely mellow patina. The coachwork is sound and solid. Mechanically excellent with a very quiet engine, nice feel to the clutch and a silky smooth gearbox with no noise from the rear axel. On the road it is a pleasure to drive and gives you a confident feel that you could go anywhere in her. I have known this car for over forty years and it remained in one family ownership from new until 2015 and only one owner since. Recently fitted with a new petrol tank, fuel pumps, water pump and full heavy grade stainless steel exhaust system. Recently serviced by Rolls-Royce specialist so on the button and ready to go. It is increasingly difficult to find genuine cars like this anymore. SOLD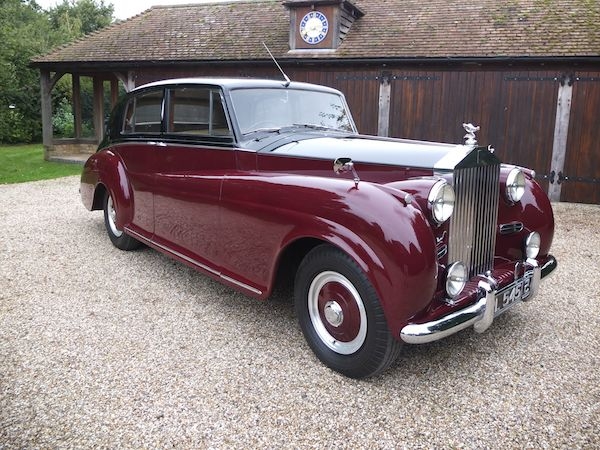 1953 Rolls-Royce Silver Wraith
Short wheel base with coachwork by James Young. Chassis Number WVH54. This delightful motorcar is finished in black with royal crimson side panels. The interior trim is finished in tan leather to the front and tan West of England cloth to the rear. All the interior is original and in exceptional condition. The coachwork has had a total repaint and is in excellent order. Special interior features include electric division, picnic tables, cocktail cabinet, vanity mirrors and foot rests. The current owner has spent a considerable sum of money over the last fourteen years of his ownership to maintain it to a high standard. The James Young coachwork is one of only eleven cars built and this particular car is featured in Lawrence Dalton's book The Classic Elegance page 47. This is a very usable family car and capable of long touring holidays, rallies etc and plenty of room for luggage. The car comes with an extensive history file and is sensibly priced at SOLD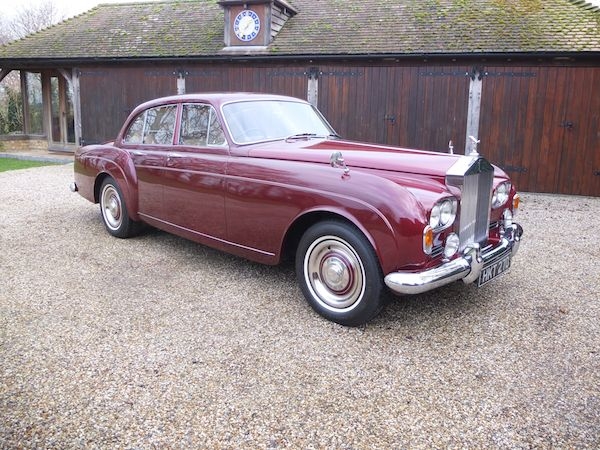 1966 Rolls-Royce Silver Cloud III
Continental Flying Spur Sports Saloon. Chassis No CSC69C. Delivered new in January 1966 to the Rt Hon R. Nivison. This is the second to last Flying Spur to be built and is finished in its original colour scheme of Rolls-Royce regal red coachwork with beige leather interior trim. This is a nicely presented Cloud that is in very good order throughout. On the road the car responds well in all aspects and gives the driver a most pleasurable driving experience. The interior is nicely finished with very good leather, perfect woodwork, new headlining and carpets. Exterior coachwork is nice and straight and all four doors closing with a reassuring solid feel. The car is supplied with all tools and a copy of the original Rolls-Royce build sheet. Altogether a very nice Silver Cloud that will serve its new owner well. SOLD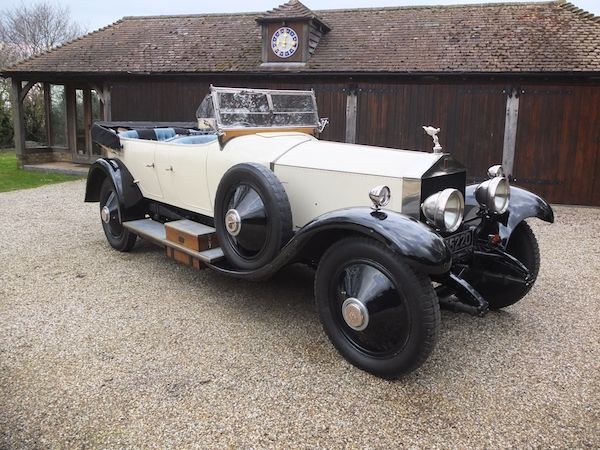 1924 Rolls-Royce Silver Ghost Tourer
Chassis Number 82EM. Supplied new with coachwork by Barker & Co and exhibited at the British Empire Exhibition . Several owners later the Ghost was fitted with a rather stylish Woody estate car body in 1962. It was one of two Ghosts that were constructed into very authentic armoured cars and used in the film Lawrence of Arabia. After filming was over chassis number 82EM was delivered to coach builder Jarvis of Bracknell for restoration and re-bodying in the style of a Barker barrel sided sports tourer. This is without doubt one of the most beautiful body styles fitted to the 1920's Ghost chassis. Today the car is in very good order throughout and is finished in cream coachwork with black wings and blue buttoned leather interior trim. It has a fold away rear Auster screen so ones guests can maintain their dignity whilst travelling at speed. The driving experience is an absolute pleasure. She steers well and the engine is very strong and pulls effortlessly. The car comes with an extensive history file that shows regular servicing and maintenance with a new honeycomb radiator recently fitted. It is becoming increasingly hard to find a beautifully bodied Ghost at a sensible price but you have just found one at SOLD
1964 Rolls-Royce Silver Cloud III
by James Young. Long wheel base without division to the SCT 100 design. Chassis No. CCL73. Delivered new to Viscount Furness and still bearing his coat of arms and wing mounted flag staff. This delightful motorcar is finished in black over ivory coachwork with ivory leather interior. It is rare to find a long wheel base Cloud III in owner driver no division specification. The interior is beautifully appointed with vanity set in the rear arm rest, picnic tables, cut crystal flower holders and nicely detailed dashboard and door cappings plus Harold Radford rear overriders mounted picnic seats. All together an exquisite Silver Cloud III. On the road the car responds well in all aspects and offers the owner a true Rolls-Royce driving experience. A most pleasing car at SOLD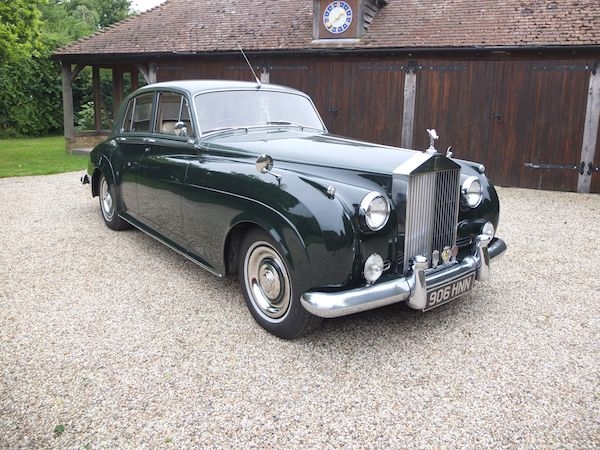 1960 Rolls-Royce Silver Cloud II
Chassis Number SWC646. Finished in sage green over smoke green with parchment leather interior trim. The headlining, leather and woodwork are all original. The bodywork is in good order and well presented. On the road the car responds well in all respects and is a pleasure to drive. The present owner has owned the car for the past twenty years and has had it maintained by Rolls-Royce specialists and is backed up by a comprehensive history file. Both large and small tool kits are in the boot with owners handbook in the glove compartment. The car was recently Mot'd and is on the button and ready to go. SOLD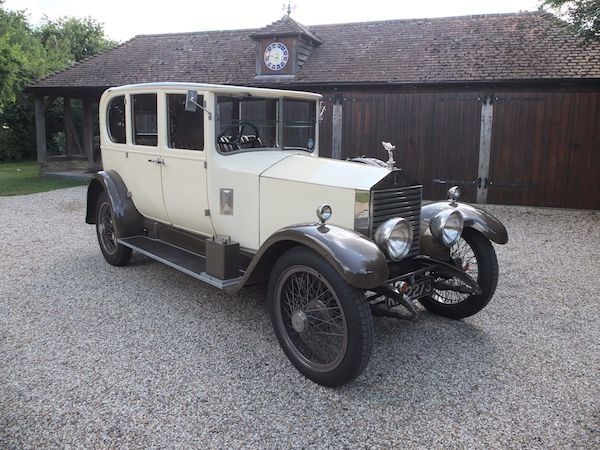 1924 Rolls-Royce 20 HP
Chassis number GMK 64. With owner driver saloon coach work by "John.C.Beadle Ltd Dartford". Finished in coffee and cream coachwork with tan hide interior trim and dark brown carpets. This car is a unique one off example that is exquisitely appointed inside, with many detailed fittings. The current owner bought this car in 1963 and it has remained in his ownership till the present day. It has been maintained regardless of cost. The extensive history file contains many invoices and photographs from Fiennes Restoration showing major coachwork and mechanical overhaul. This is a properly sorted 20 HP that has the benefit of an overdrive system, modern oil filter plus thermostat and heater making this a very useable car the whole year round. When driving this lovely motor car one can appreciate just what a pleasure it is to drive a professionally restored car. I would strongly advise viewing to appreciate the quality of its restoration. SOLD
1933 Rolls-Royce Phantom II Continental
Short Chassis. Chassis Number 140MY. This is the famous car that was built for Captain Sir Malcolm Campbell, world record holder for speed on land and on water during the 1920's and 1930's. The sports saloon coachwork is by Barker and finished in metallic Saxe blue. The interior is blue leather with grey headlining, dark blue carpets and beautifully detailed wood door cappings and dashboard. Special features on this car are low rake steering column, wider track, higher axle ratio , Andre Hartford tele-friction dampers and sports continental springs. In recent years the car has been the subject of a ground up restoration of the coachwork. In 2016 the car was delivered to Kenworthy & Co Vintage Motorworks Ltd and has just been delivered to me after having a £163,000 mechanical restoration of which the detail is too vast to mention. I would invite interested persons to come and study the encyclopaedic invoice record and detailed photographs to satisfy yourself with the staggering amount of work that has been carried out on this beautiful car. If you are looking for a rare and historically important motorcar then look no further ! It is here with me waiting for you ! SOLD
1947 Rolls-Royce Silver Wraith Sedanca De Ville
with coachwork by HJ Mulliner. Chassis Number WYA32. This beautiful motorcar is finished in black over claret with claret leather interior to the rear and black leather to the front with an electric division between. This motorcar has come from thirty three years of private ownership and has formed part of a serious collection of motorcars. Delivered new to a Mr Lee of Hong Kong and remained there until 1988 when it was bought by its current owner. This Silver Wraith is a delight to behold and on the road is equally a pleasure to drive. There is no substitute for a very original low mileage and ownership car that has been very well maintained. This is one not to be missed. Please come to see to appreciate just how nice this car really is. Realistically priced at SOLD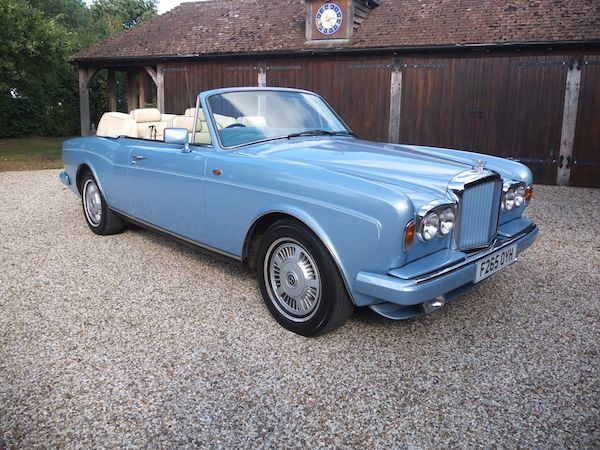 1988 Bentley Continental Convertible
Finished in Larkspur blue with magnolia leather trim and magnolia hood. This lovely motorcar is in excellent condition throughout and on 21st July 2020 benefitted from the fitment of a brand new engine supplied by Jack Barclay and now has a two year engine warranty. On the road the car responds very well in all aspects and makes for a most rewarding driving experience. The coachwork, paint work and interior are all in excellent condition. Supplied with the car is a full tool kit, full service history, owners hand book and service book. Summing up I would say this this is a delightful and rare motorcar being one of only 43 produced and because this a a later model she handles exceptionally well on the road. SOLD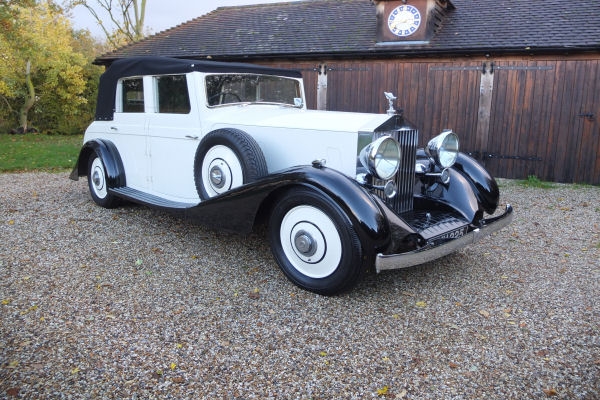 1938 Rolls-Royce 25/30
Chassis number GAR15. With all weather four door cabriolet coachwork. The original limousine body was removed from this Rolls-Royce and the bare chassis stripped and re-painted. A completely new Ash frame was constructed with all new aluminum body panels and wings with new hood frame and hood. The engine work includes crankshaft reground, new white metal bearings, new pistons, cam followers, front gear train bearings, water pump, dynamo, starter overhauled and an aluminum head fitted. Also fitted with a new stainless steel exhaust system and a new clutch. With new interior leather trim and carpets this unique motor car is now complete with an Mot to November 2014 plus historic tax. Viewing highly recommended. SOLD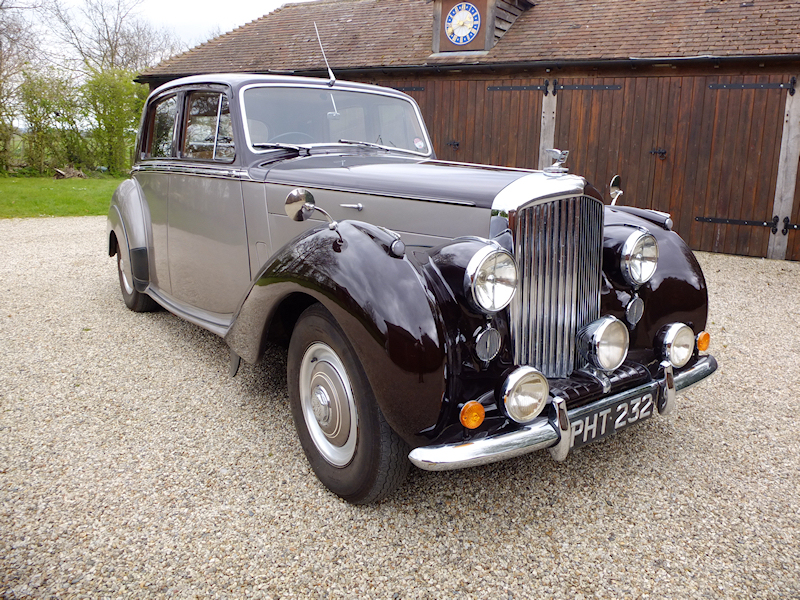 1952 Bentley MKVI 4 1/2 Litre
Finished in garnet over dusk grey with tan leather interior trim. Retaining all of its original fitments such as the HMV Vale radio, sunroof and rear wing spats. This is the most desirable specification of a standard steel MKVI Bentley available. Having the 4 1/2 litre engine with the full flow oil system plus twin pipe exhaust unit the other nice feature of a late MKVI is the twin side scuttle mounted air vents that are essential for keeping the interior of the car cool when driving on hot summer days or continental journeys. This motor car is in very good order throughout with a clean underside, good paint and chrome work. It has been with its current owner for fourteen years and is only being sold to finance a MKVI special project. This lovely car is well worth viewing. SOLD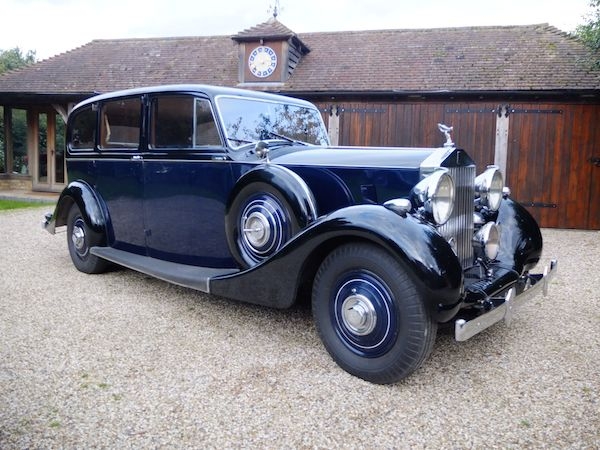 1939 Rolls-Royce Wraith
Chassis Number WRB10. With stylish six light limousine coachwork by Park Ward. Finished in black with dark blue side panels. Fitted with side mounted spare wheel and a lovely rear mounted travelling trunk complete with two fitted suitcases inside. The interior is trimmed in original fawn coloured Bedford cord to the rear compartment. Nicely appointed with foot rests, attractive interior lighting and occasional seats for extra passengers when needed. The front compartment is re-trimmed in blue leather with nicely detailed woodwork to the dashboard. The car is in good condition throughout with a very quiet engine and oil filter upgrade plus a smooth gearbox and quiet rear axel, all of which go to making this motorcar a very nice driving experience. SOLD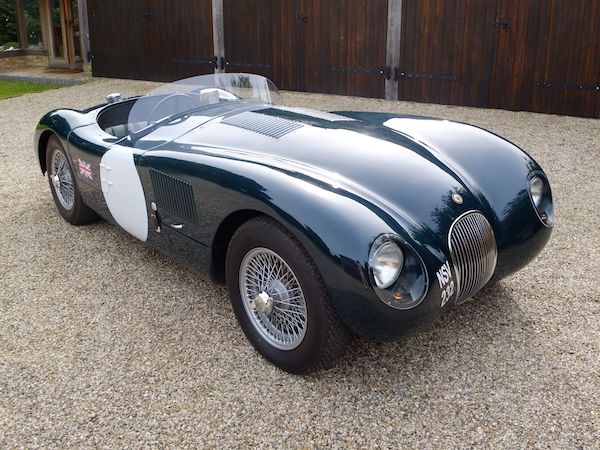 1988 Jaguar C-Type
All aluminium bodywork. This C-type is built on the Suffolk Sports Cars chassis and incorporates torsion bar suspension and live rear axel so gives the driver a true feel of an original C- type. The dash lay out is correct and features original style instruments and switch gear plus a beautiful C- type style steering wheel. Under the bonnet the detail continues with polished cam covers, correct style radiator and period electrical component. All in all this is a lovely C- type and as close to the real thing as you can get for a sensible price. SOLD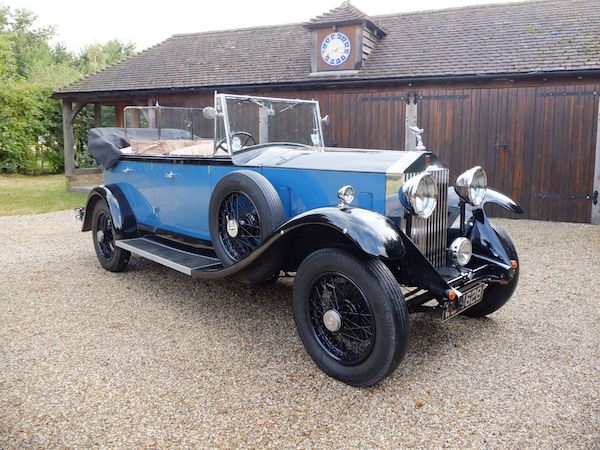 1932 Rolls-Royce 20/25 Tourer
Chassis Number GZU1. Finished in blue and black coachwork with parchment leather interior trim and a black mohair hood and sidescreens. The coachwork is in the style of Windovers four door open tourer and is built to a very high standard using traditional construction of an Ash frame clad with aluminium panels. It features many rare and interesting details such as an auster screen that offers the rear seat passengers extra protection from the elements. The rear compartment has pleasing mahogany cabinet work that contains a cocktail bar plus many drawers and compartments for all ones travelling needs. This is a very stylish pre-war Rolls-Royce tourer that offers plenty of room for passengers plus luggage in the rear mounted travelling trunk. The condition can only be described as excellent and the driving experience is a delight. Viewing this splendid motorcar is highly recommended as she is on the button and ready to go anywhere. SOLD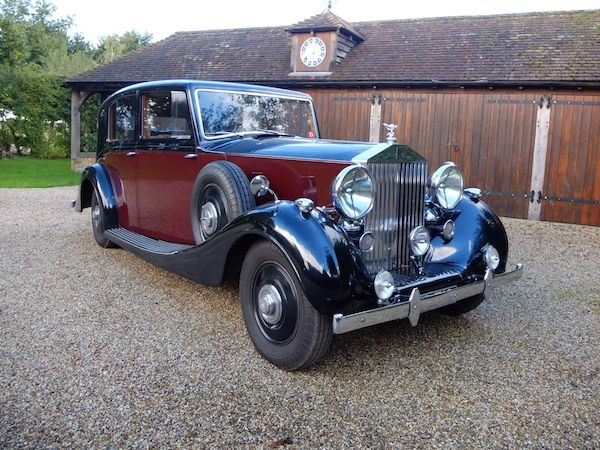 1939 Rolls-Royce Wraith
Chassis Number WHC54. Four light sports limousine with electric division with coachwork by Freestone & Webb. Finished in black and burgundy paintwork with a tan leather trim. Most of the interior is original and in good order. This motorcar was ordered with many special features that include picnic tables, occasional seats, vanity mirrors, cigar lighter, clock, foot rests and radio to name a few. On the road this motorcar performs very well and is a pleasure to drive. She has an interesting history and was the star of one of the episodes of Dad's Army (The Captain's Car) in which Lady Maltby donates her Rolls-Royce to the war effort and Captain Mainwaring decides that it would make an ideal staff car. A DVD of this is included in the history file along with the old green log book, copy of chassis cards and invoices for maintenance that go back many years plus Bernard King's book on The Wraith. All in all a delightful motorcar. SOLD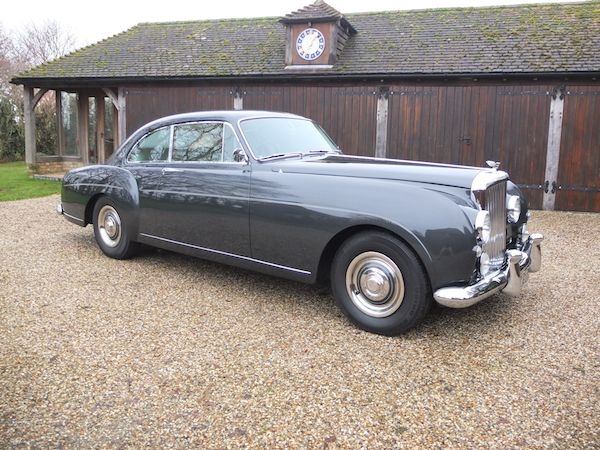 1956 Bentley S1 Continental Fastback
by HJ Mulliner. Chassis Number BC17BG. This magnificent motorcar is finished in Tudor Grey coachwork with champagne leather interior trim. The condition of this car can only be described as exceptional from bumper to bumper. The upholstery is original and has a lovely soft feel to it and looks correct. The woodwork is as near perfect as one could wish for. Outside the car the coachwork is smooth with no ripples with excellent panel fit and the paint has a deep lustre. The chrome is very good and finishes the car off beautifully. On the road, as you would expect, she is a joy too drive and responds well in all respects. To sum up I would say that this car is a delight to look at and drive. The history file and service records are extensive proving that this continental has been maintained to a high standard. Included with the car is the correct Continental touring kit. Very sensibly priced at SOLD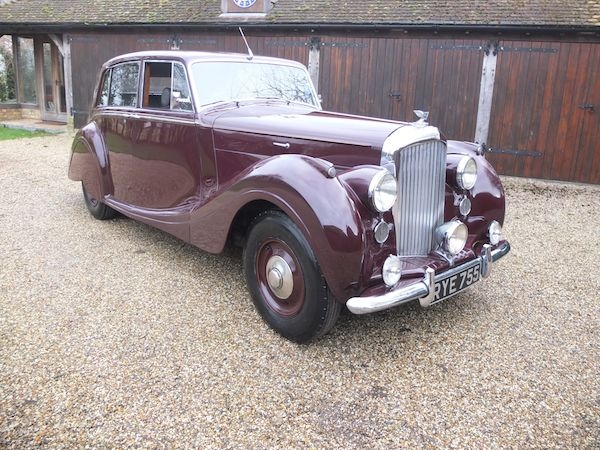 1949 Bentley MKVI 4 1/4 Litre
Sports Saloon by HJ Mulliner. Chassis Number B256DA. This is a most pleasing design with a flowing wing line , forward hinged front doors and Hooper style rear quarter light windows. The coachwork is finished in dark red with dark grey leather upholstery piped in dark red. Over the years the car has had a complete body restoration and re-paint, chrome work re-plated and interior upholstered and now presents very well. On the road it is very responsive in all aspects and is a pleasure to drive. It has an Mot and is on the button. The registration number RYE 755 was put onto the car by the current owner and will be retained. The registration 723 XUV will be returned to the car. Viewing highly recommended. SOLD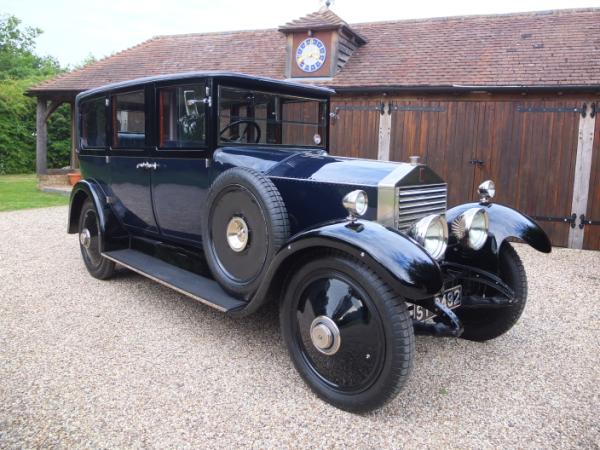 1925 Rolls-Royce 20HP
Chassis Number GDK70. With six light limousine coach work by Croall. This lovely motor car comes direct from the private collection of the president of the South Eastern section of the Rolls-Royce Enthusiasts Club. It has been the subject of a complete restoration from the ground up that includes total chassis and suspension plus steering re-build, body restoration and re-paint, new leather, carpets, headlining etc, engine re-build, re-wire etc plus all bright work re-plated. It would be difficult to find another car that has received so much care and attention and it now represents a thoroughly sorted Rolls-Royce 20 hp. The car is supplied with an interesting history file that includes copy of original build sheet and old buff log book. I would recommend viewing this motor car to fully appreciate the work that has gone into it. Complete with historic tax and Mot to May 2015. SOLD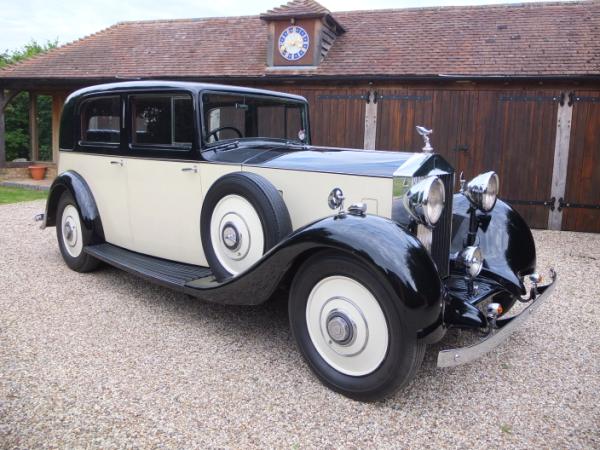 1935 Rolls-Royce 20/25 Park Ward Saloon
Chassis Number GLG60. This very attractive four light owner driver saloon is a rare opportunity to acquire a very original example that has covered only 84,000 miles from new and has been the subject of a bare metal re-paint. It has been regularly and professionally maintained by its Rolls-Royce factory trained engineer owner who has owned this motor car for the last 43 years. The interior trim is almost completely original and has a lovely mellow, correct feel to it. All doors close with a railway carriage clunk. It has been fitted with an aluminium head. The driving experience is what you would expect from such a lovely original example. The car is supplied with Mots dating back to the 1960's, copy of build sheet and photos of re-paint. Complete with historic tax and Mot to 2015. SOLD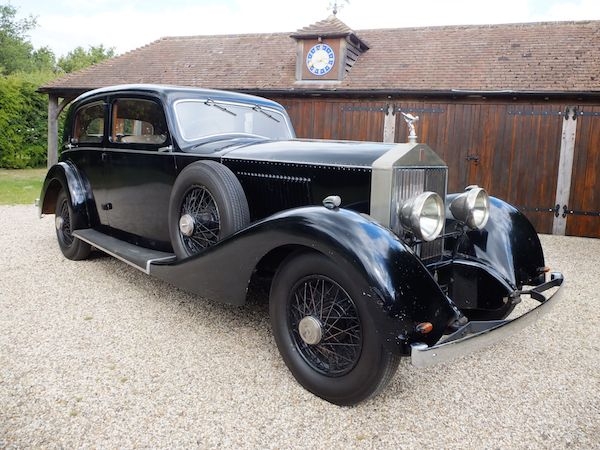 1926 Rolls-Royce Phantom 1
Fitted with replacement four door sports saloon coachwork by Martin and King in the late 1930's. This lovely motor car is bristling with high quality fitments that include Art Deco door handles, ash trays and a very nicely detailed dashboard. Mechanically in very good order with a very quiet engine. She drives very nicely and the chassis and underside are both in very good condition. Viewing of this motorcar is highly recommended. SOLD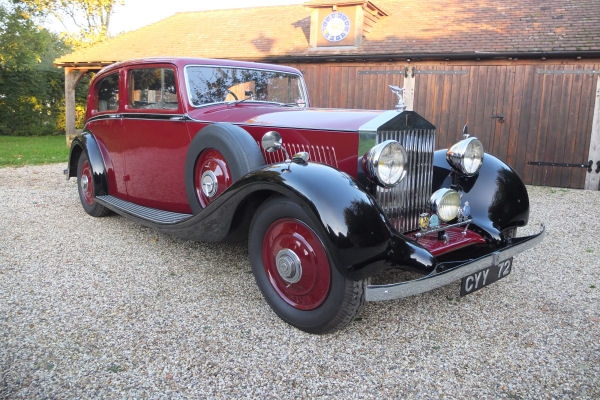 1936 Rolls-Royce 25/30 Sports Saloon
by Park Ward. Chassis Number GLT28. This desirable small coachwork Rolls-Royce is finished in black and burgundy with grey leather interior trim and grey headlining and carpets. This motor car has received extensive restoration in the last couple of years that includes re-building of the running boards, some Ash framework, a body restoration and complete re-upholster in new leather plus new carpets. All wiring has been checked and replaced where necessary. New exhaust and tyres fitted. Cylinder head removed and checked. This now represents a nice driving car with all the hard work done. Historic tax and full 12 months Mot. SOLD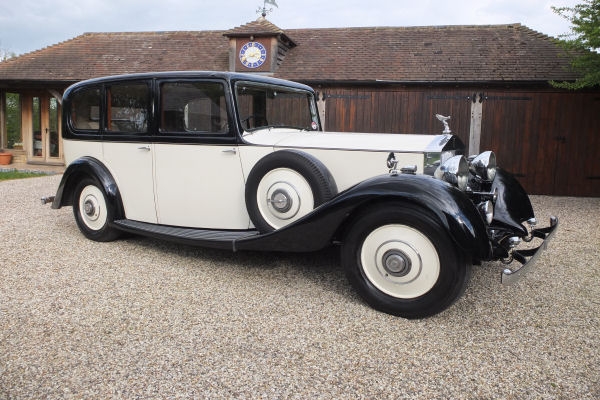 1938 Rolls-Royce 25/30 Six Light Limousine
With coachwork by Hooper and Company. Chassis Number GRM60. Finished in black and ivory paintwork with black drivers compartment and buff coloured cloth upholstery to the rear compartment. With glass division and two occasional seats. This Rolls-Royce has been with its present owner for twenty-seven years and has recently benefited from a new clutch and new aluminium cylinder head making it a very nice driving car. The coachwork is all sound and solid with all four doors closing with a railway carriage clunk. The car is supplied with historic tax and a new Mot until March 2015. SOLD
1962 Bentley S2 Continental Flying Spur
By James Young. Chassis Number BC96AR. Finished in white coachwork with St James red leather interior trim. The bodywork is very straight with all doors closing well. The upholstery is in lovely original condition and still very soft and supple. The chassis and underside of the car is in very sound and solid. Apart from its white paintwork this is a very original Bentley Continental that requires cosmetic attention hence very sensibly priced. SOLD